Jailbreak iPod Touch 4G With SHatter Coming Soon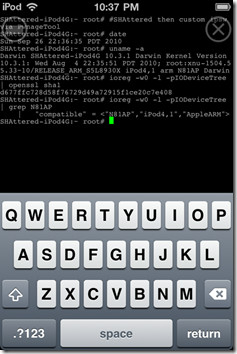 There is some great news for iPod Touch 4G owners waiting to jailbreak their devices. Dev-Team has released a video of iPod Touch 4G jailbroken in seconds using SHatter exploit. This exploit was identified and developed by iPhone hacker Pod2G, which was later endorsed by Chronic Dev Team's P0sixNinja. There is no estimated time of arrival associated to this jailbreak but we can expect it to surface very soon.
Here is the video of iPod Touch 4G jailbreak with SHatter exploit.
Here is what the official iPhone-Dev blog has to say about this jailbreak:
In the meantime, we've put @pod2g's [SHatter] exploit into a beta version of PwnageTool to test the waters. The SHAtter exploit was enough to convince the iPod touch 4G to restore to our custom IPSW.
It is speculated that this jailbreak will be released integrated with PwnageTool. We will post step by step guide on jailbreaking your iPod Touch 4G with SHatter as soon as it is released.