Jump Desktop Now Lets Android Users Remotely Control Their PCs & Macs
Developed by Phase Five Systems, Jump Desktop is a simple, yet effective, cross-platform iOS and Android app that allows users to remotely connect to their Mac and/or Windows-based computer via Remote Desktop Connection Protocol (RDP), as well as Virtual Network Computing (VNC) protocol. While the app has been around in the iTunes App Store for quite some time now, it's the Android client that has just made its way into the Google Play Store. Using the combination of Jump Desktop's mobile and desktop clients, you can establish an instant and secure remote connection between various devices over the internet (Wi-Fi/3G) to control and access your computer via your Android/iOS-powered device on the go.
The app comes with high quality multimedia playback support, and lets you easily control your computer via various multi-touch gestures on your mobile device. In addition, the app lets you specify a screen resolution and stream quality of choice (8, 16 and 24-bit), and lets you set up a specific program from your computer to run automatically whenever you connect to your computer via Jump Desktop mobile client. Then, there are a couple of tweaks on the UI front that you can enable/disable for optimum and instant content streaming. For instance, you may enable bitmap caching, show/hide the desktop wallpaper, toggle on-screen font quality, enable/disable desktop animations and several other graphics-related settings to ensure a smooth and swift remote connection between your desktop and mobile device. More to follow.
Just for a reminder, Jump Desktop is not the first remote desktop access solution for Android to hit the Google Play Store. Previously reviewed Splashtop Remote Desktop, PocketCloud Remote, LogMeIn and TeamViewer for Remote Control are some of the already existing solutions that instantly come to mind. However, the level of security and streaming quality that Jump Desktop provides for your remote connections is easily at par with, if not better than, some of the very best apps in the business. To its credit, Jump Desktop also supports efficient multitasking, which means that your connection with the computer is not disturbed even if your leave the app's interface. Then there is the option to backup and restore all your personal app preferences and settings, so that you do not have to go through the configuration process each time you (re)install the app on any of your devices.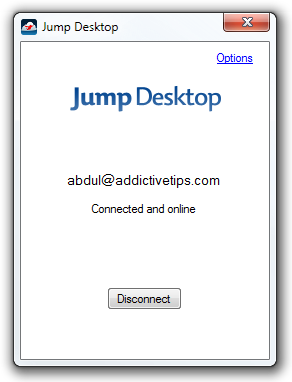 Jump Desktop mobile client requires you to go through a bit of configuration before you can start using it. In this regard, it presents you with a couple of configuration modes on its homescreen. You can opt for Automatic Setup (recommended for most users) or Manual Setup.
The desktop client of Jump Desktop is available for Windows and Mac, and can be downloaded via the official Jump Desktop website for free. The download link to the app's desktop client is provided at the end. Once installed, the desktop client, too, requires a bit of input from the user. You must specify whether you want to proceed with automatic or manual settings, and whether you wish to connect using the RDP (recommended) or VNC protocol. Both respective clients of the app require you to log in with your valid email ID for easy user identification.
Once all necessary prerequisites are taken care of, you're almost ready to establish a remote connection between both the devices in question. Just make sure that all the devices in question are connected to the internet (Wi-Fi/3G), and that the app is up and running on its respective platforms. The mobile client's homescreen lists all the computers that have the Jump Share desktop client up and running. All you need to do is tap the required system with which you intend to establish a remote connection. After a brief interval, you will see your desktop content streamed right on your mobile device's screen. Tapping menu on this screen reveals a control panel at the bottom, complete with several basic navigation controls, keyboard and pen toggles, function keys, windows key and other commonly required keyboard controls.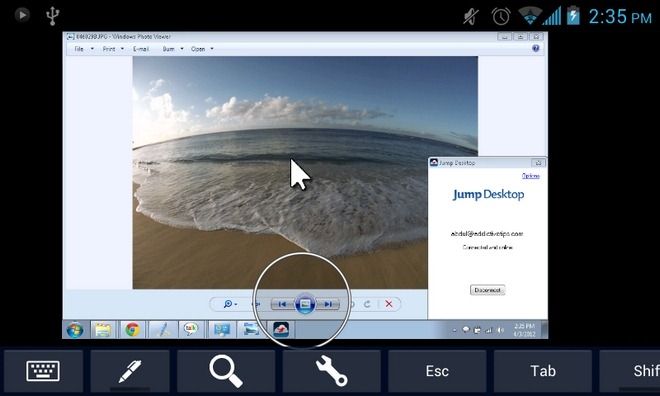 To help you easily control mouse movements, the app displays a small circle along with the mouse pointer. Various on-screen tutorial screens help you with getting a grip of the app's controls, gestures and features. In case the user screen is password-protected, the app won't let you in unless you provide the correct password. That's it; now that you're connected to your computer, you may control it as you will. Needless to say, the quality and speed of streaming is very much reliant on the connection strength of your internet.
The app is available in the Google Play Store as a free and $5.10 paid variant. The free version of the app allows remote connection to just one computer at a time, whereas the paid variant is free of any such restrictions.
Download Jump Desktop Free For Android
Download Jump Desktop For Android (Paid)
Download Jump Desktop (For Windows & Mac)