KD Collage For Android: Photo Collage Creator With Multiple Designs
Featuring plenty of elegant and stylish collage templates for your photos, KD Collage is the latest addition to the list of handy photo-editing Android apps that are available in the Google Play Store. Using KD Collage, you can create beautiful photo collages with custom background and text effects on your Android on the go. The app offers you numerous photo collage designs/patterns/frames, each with a unique style and a specific number of photos that it can sport. To make your collages even more attractive, you can choose from various background designs, gradients, textures, and even a custom photo from your device's gallery. In addition, the app supports 90-degree rotation of collages, and lets you pick a preferred aspect ratio for them. Collages created via KD Collage can be stored on your device's local storage, shared with friends, set as a wallpaper, and saved to the app's favorite list right from within the app. That's not all, the app also keeps a track of your recently created collages, and let you select the required format/quality for saved images. In fact, KD Collages is among a handful of apps that lets users save their photo collages in full High Definition (HD) quality.
Although we have previously reviewed numerous photo collage creating apps for Android (like TurboCollage), the level of ease and customization that KD Collage offers to the users for their collages is way better than any other alternative. With minimum of effort, and few taps, you can end up transforming your rather dull-looking pictures into rich and vivid photo collages.
The app's homescreen presents you with a couple of options. You can either start creating a New collage, or explore your recent and favorite collages.
Tapping the New collage button takes you to another screen from where you can choose the desired collage template depending upon the number of photos that you wish to use in the it. Just select a template, and begin filling with required photos, and personalized settings. To add photos to the selected collage, just tap the image placeholder, and replace it with the required photo. Fill up your collage in the same way with the images of your choice.
The toolbar at the bottom comprises several tabs, namely Collages, Edit, Background and Save. Tapping the Collages tab lets you adding custom text to the collage, change the aspect ratio of the canvas, or rotate it to 90 degrees.
To edit an added picture or custom text, select the required item, and tap Edit. Provided you've selected a photo, you can replace it with another image, reposition it on the collage, or delete it altogether. If you've selected custom text, you can edit the text content, select a custom style, and/or reset its position on the collage. For your custom texts, the app offers plenty of options including the custom text font/script, fill color, second fill color, and various optional outline color schemes such as outline color, second outline color and shadow color.Tapping the Background tab at the bottom lets you pick a custom background style for the collage. In this regard, you can apply a custom background color, apply a gradient/texture fill, or import an image from your device's gallery.
Once the entire collage is finalized with your desired preferences, you can tap the Save tab to save it to your device, share it with your buddies, set it as wallpaper, or save it to the favorites list. Collages shared via KD Collage are stored in the KD Collage folder on your device's SD card.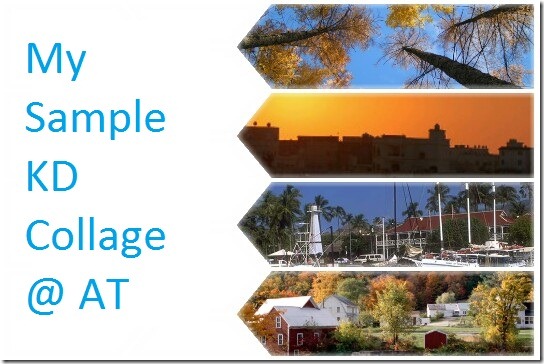 All in all, KD Collage stands out to be one of the most comprehensive yet simplest ways to create memorable photo collages from your Android device on the go.
KD Collage is available as a free and a $1.50 paid variant. While the free version is ad-supported, the paid one removes the ads. Moreover, with the paid version, you get a chance to save your collages in HD quality, and several handy editing options.
Download KD Collage (Free)
Download KD Collage Pro (Paid)