Keep Track Of All Your Contacts With Find My Friends For iOS 5
Android may be catching up fast, but iOS is still the most widely used mobile operating system out there. So, that is why there was a lot of hype surrounding everything that was announced in Apple's much-awaited iPhone event last week. Although it turned out to be a bit disappointing for some fans due to the absence of an iPhone 5, iOS users are finally getting over the disappointment and getting excited about iOS 5 and iPhone 4S. If you've upgraded to iOS 5, there's some good news for you. The apps that Apple announced at their event have finally arrived on the iTunes App Store. Find My Friends is one of them and can be considered a new way of staying in touch with your friends and always knowing where they are. Find My Friends can be considered a combination of tracking and social interaction.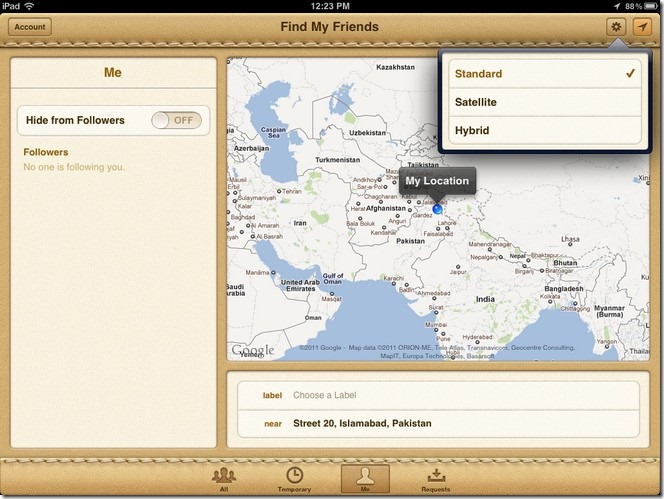 If you're thinking this is the end of privacy, think again. Apple isn't so thoughtless. Both parties have to consent while setting up the app if they want to share their location with a particular person, just like in Google's Latitude for Android. So how do you set up the app? All you need is an Apple ID and you are good to go. Just enter your address and password and log into the app. You will be presented with options to allow the app to access your location and send you push notifications.
So the first thing you have to do once everything is up and running is to start adding friends to it. Each added contact will have to approve your request and allow his or her location to be viewed by you. Even when the location has been enabled once, all you need to do to hide yourself is to go the the settings menu in the app and choose Hide from Followers. Turn it back on, and you will be visible to your friends again.
You view where a contact is currently located on Google Maps using its 3 different views; Standard, Satellite and Hybrid (just like in the stock Maps app). With Find My Friends, you can also add labels to any location on the map. The option becomes visible as soon as a location is highlighted or gets detected as your current location. Being an official app, Find My Friends is available for free on the App Store.