Kick Out Texting With Kik Messenger for Windows Phone 7
Although, Windows Phone 7 offers many messenger apps but none of them come even close to perfection. A few are infested with bugs whereas some have made users complain of slow speed and irresponsive interface. All in all, if you are a "chat" person, and like to stay in touch with your friends and loved ones via different messengers, then you must admit that it would be nice to have an app where you can interact with people who are on the same platform as you. A bit of extra speed would be welcome as well. Combining exactly these features, Kik for WP7 is now available on the Zune Marketplace.
Kik has been around for some time now, celebrating success in the Android Market and also on the iPhone, with the total number of downloads reaching the 4 million mark recently! And now the developers have decided to launch this applauded app for WP7 too.
Lightening Fast Texting:
The thing that sets Kik apart from other similar apps is its speed and lightweight interface. This means that you don't have to bear with painfully slow loading speeds and lagging conversations. If you want to look at it that way, Kik is just like your texting service, but free. You can text as much as you want when you are on Kik and it won't cost a dime. The app even gives you notifications about the delivery status of the message and will let you know as soon as the message you sent has been read. The main objective of Kik is to give you an experience that is as close to real life conversations as possible.
Group Conversations:
While using Kik, it is as natural to have a chat with multiple contacts as it is to chat with just one other person. Everything will remain the same once a new member joins the conversation and you will start receiving instant notifications and messages from the new arrival in the same conversation window that you were using earlier. Even for offline contacts, you can form default groups so that whenever everyone is online you can have a collective talk with them.
Photo Sharing: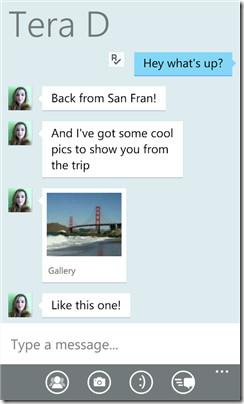 A lot of services nowadays are focusing solely on photo sharing and publishing. However it is nice to have an app where you can use simple drag and drop to show your photos to the friends you are currently in conversation with.
Other Features:
Kik for WP7 is developed to optimally use the Metro interface of Windows Phone 7, and gives you a delightful and (more importantly) responsive interface. This app has a handy way of treating offline messages. Users get notifications about offline messages as soon as your phone connects to the internet.
But there are some negatives pertaining to this app too. Unlike some other messengers you have to  invite all your friends from other services to join Kik, as importing contacts on other services is not possible in Kik. But on the other hand the app is free, having a variety of useful features and is definitely worth a try.
Download Kik (Zune link)