LocoBuzz Pinpoints Latest News & Celebrity Tweets On Map [Android]
Keeping a close tab on the latest global news of the hour, as well as the tweets flowing in from your trusted sources requires some effort. For one, you must have a capable news reader installed, plus, a Twitter client that can keep you apprised of the required news bits. While you may find plenty of alternatives to serve both said purposes effectively, if working on suggested solutions sounds a tad too hectic to you, then you need to try LocoBuzz – a free location-based Android app that displays some of the top news stories of the hour along with celebrity tweets on the world map. The app's concept is somewhat similar to recently reviewed Global Feed, which allows users to explore news relevant to their chosen category on a rotating 3D globe. While Global Feed also supported displaying weather conditions of some of the world's top cities on the globe, LocoBuzz takes a different route by adding a bit of social media flavor with the option to view celebrity tweets and the location where they were posted from. That's not all, you can tap on any news story of interest to explore it in detail (from browser) or share it on your Facebook Wall right from within the app.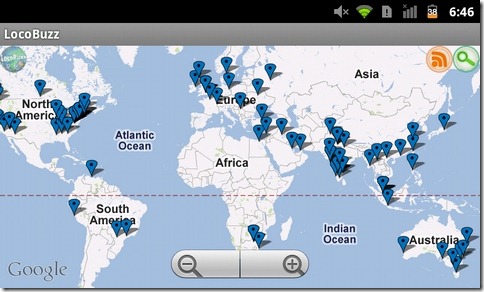 The app uses Google Maps to indicate the location of news. You can navigate and zoom to any preferred location on map to explore all the content. The search button at the top-right of the app's homescreen lets you manually search for News and/or Celeb Feeds. The button beside it can be tapped to view all placemarks.
Tapping on a placemark displays headlines of all the news stories and tweets pertaining to the associated area. Tapping on a headline reveals brief details for that particular news item. On this screen, you have three additional buttons at the bottom that let you return back to the headlines screen, launch the browser to explore the story in detail or post it to your Facebook Wall (requires login).
The app is a bit thin on features as of now. The addition category-based news filtering with multi-colored placemarks to indicate a particular news category, a native news reader that lets you explore news in detail without having to jump the browser, and finally, the option to view your friends' tweets (or even Facebook activities) on the map, could do wonders for the app's standing on the Market.