Lumia Highlights: Get Tips, Tricks & Tutorials For Nokia Windows Phone
Before the Lumia series was released, many people were calling it Windows Phone 7's last hope. Although this is something of an exaggeration, as things weren't that bad for the Mango phone, it is still nice to see how popular Nokia Windows Phone devices have become. The increase in any platform's popularity always means one thing – there are a lot of new WP7 users, and many of them have never used a smartphone before. If you have been using WP7 for a considerably long time, you might be used to the workings of the Mango platform, but things can seem tricky for a lot of new users. Just a few days back, I had to explain to one of our readers, in great detail, the method for transferring songs to the device via Zune. Keeping such new users in mind, Nokia has launched a help app (much like Microsoft's official Help+How-to) named Lumia Highlights. Even for experienced WP7 users, the app holds the charm of coming up with some really cool tips every once in a while. Read on to learn more.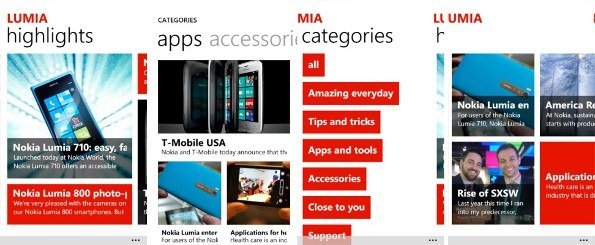 When you launch the Lumia Highlights app, you will be greeted by the featured content on it. The featured post could be anything depending on user demand. This area of the app is a good place to stay in touch with the latest development news related to Nokia WP7. To optimize the use of your data services, most of the content in Highlights will open within the app, instead of directing you to Internet Explorer. The main Highlights section might feature a variety of things, ranging from news, tips and sometimes even ads related to upcoming Lumia products and accessories.
When you swipe your way past the last screen of the featured section, you will find that there is a whole new menu waiting for you there. Lumia Highlights does not have a search option (which would have been really useful), but the categories area is thorough enough to easily let users find whatever help they are looking for. The app even makes use of your current location to point you to the nearest Nokia support centers, in case you ever need them, and a similar option exists to get online support. For news regarding the latest Nokia apps, navigate to the Apps and tools menu, while Amazing everyday completes the app by presenting you with ideas on how best to use your WP7.
Nokia's Lumia Highlights is a really useful app, and most people won't mind if it came pre-installed in their phones. You can grab the app for free by searching through the Marketplace, or by scanning the QR code below (remember, the app is only available for Nokia devices).