Metal Sniffer: Metal Detector That Exports Readings In CSV [Android]
I remember the time the HTC G1 came out, and with it, a metal detector app. To be honest, I initially thought it was a gimmick and more of en entertainment app rather than an actually utility, but as it is, the thing actually worked! Since then, the Android Market, now renamed to Google Play, has been flooded with tons of metal detector apps that offer quite a lot of different functions, but if you talk about free ones, most out there are ad-supported, which can be a nuisance at times (although for free, one shouldn't complain). Metal Sniffer is just another metal detector app, there, I said it. However, the app brings in what most don't, and that is a Holo themed interface that blends in nicely with the ICS UI – for those of you running Ice Cream Sandwich on your Android device – and best of all, the app is entirely ad-free. More on the app and how well it actually fares in what it does, after the break.
As in the case of every other metal detector app, Metal Sniffer uses the magnetometer/compass in your device to detect nearby electromagnetic fields. To start off, Sniffer actually does work, and it actually looks good as well. The app displays not only the X, Y & Z components of the field, but plots a live graph as well in the form of a history chart. Not too sure about what magnetic fields are and how the app works? Tap the help button at the bottom to read all about it. The readings range from low to high, and while the color of the value changes as it increases, a critical reading will vibrate your device. Do note that the presence of TV's and Monitors or huge speakers nearby will interfere with the readings.
According to the developer, depending on your phone's sensor, the app can detect metals up to 15cm away, and apparently can be used to detect electrical wiring inside the walls as well, that is, if your walls are wooden, of course. The app let's you define the sensor speed from a choice of 4. Readings can be read in three units; Microtesla (uT), Milligauss (mG) & Gamma (Y). The alarm trigger can also be customized to go off at a certain reading, but must be in Microtesla (uT).
One of the sweetest things that this app does, is that it allows you to export the data as a CSV file, so you can read it later on your computer. Below you can see how the data is presented in the CSV format in MS Excel. The graph, although not generated automatically, but can be plotted easily.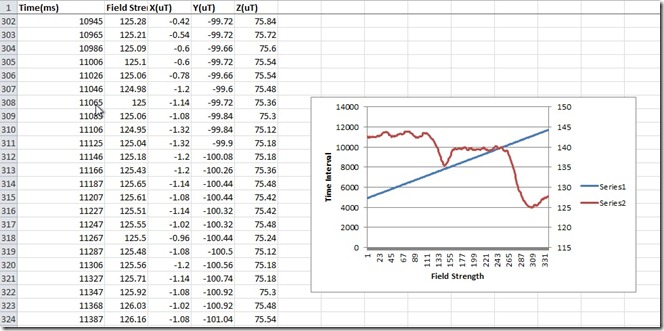 Metal Sniffer is available in Google Play Store for free, and will work on Android versions 2.3 (Gingerbread) and above.