MIUI 1.7.15 ROM Ported To Samsung Mesmerize i500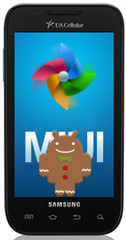 Earlier we covered a guide on an MIUI port for the Samsung Mesmerize but that was v1.7.1.3. It was a project started by ChromWolf at RootzWiki and if you weren't familiar with that before, the ROM has now been updated to v1.7.15. This should give Mesmerize owners some hope when it comes to continuous development and making the port for the Mesmerize as perfect as possible. Incase you found yourself here while being completely clueless about the previous version, or are not in anyway familiar with MIUI ROMs, you should see our guide on what is MIUI ROM for Android.
Credits to ChromWolf who originally started porting this to us and for his help, andmer for making this all happen in the first place and for the weekly updates, bdemartino who helped in getting the SMS going and JT1134 for all the work he did for CM7 as this would not be possible otherwise.
The ROM is based on Android 2.3.4 Gingerbread and being a port, does have its drawbacks for now considering the glitches that exist.
MMS will not work if you're on Wi-Fi.
The ROM has also been added to ROM Manager, so now you can download this ROM straight from the ROM Manager app. View the complete changelog.
Disclaimer: Please follow this guide at your own risk. AddictiveTips will not be liable if your device gets damaged or bricked during the process.
Requirements:
Instructions:
To begin, download the ROM from the link above and copy it to the root of your SD card.
Reboot your device into recovery and make a Nandroid backup.
Select wipe data/factory reset, wipe cache and wipe dalvick cache.
Navigate to install zip from sdcard > choose zip from sdcard and select the ROM you copied to your SD card.
This will start the flashing process, wait for it to finish.
Once the ROM is flashed, reboot your device.
That's it! You should now boot into the new MIUI ROM. For updates and queries, visit the forum thread at RootzWiki (thread deleted).