More Widgets For iOS 5 Notification Center Now Available [Cydia Tweak]
From the release of iOS 5 betas to the GM release, users have been anticipating whether or not they will see some new widgets added to the new Notification Center which currently houses the Weather and Stocks widgets only. Guess what? Cydia tweaks have started showing up, and you can thank the team at BigBoss who have recently released a few widgets for the Notification Center that you can use, provided your device is running iOS 5 beta or GM and is jailbroken. We take you through all these new widgets and show you not only how they look but how you can install them.
Let's not waste time, we'll get right to the widgets hands on, one by one.
MyiP
This widget simply adds to the Notification Center your local IP for quick reference, if and when needed. Testing it on the iPhone 4 it showed us the IPv6 address.
Status Google
So if you can't have a Google search bar placed on your home screen like on an Android device, you can at least have it added to the Notification Center. Status Google is just a fancy name for an otherwise simple widget that allows you to search via Google straight from the Notification Center.
NotifciationShower
This widget allows you to add text to a banner, so that whenever you access the Notification Center you are reminded every time of what you have to do, or what you need to avoid for that matter. Of course, those using the Reminders app or other task management apps may find this widget pointless, but for those who don't, this widget will serve as a constant reminder as well, since you'll be accessing the Notification Center almost all the time.
Omni Stat Widget
By far one of the most comprehensive widgets for the Notification Center, Omni Stat displays info regarding some of the most important aspects of your phone, such as storage, IP addresses and MAC address, RAM usage and Processes. You also get functions such as tap-to-free memory, reboot options and connectivity options.
QuickNote
Nothing special here, to be honest. You can add some notes for quick reference. As the title suggests, quick notes.
RSS Widget
This Widget shows you news based on an RSS feed. If anyone using this knows how to add or remove a feed, do let us know. We weren't able to find such an option during our test-run.
Power Center Widget
This widget here houses all your power options; from reboot to respringing the keyboard, the widget does it all. Simply tap the action you want to execute and slide the switch to the right to perform the selected action.
Respring
Respring is a simple widget that resprings the Springboard instantly. All you need to do is slide the switch to the right, and voila!
Slide Center
This particular widget performs no actions as such but does serve a rather aesthetic purpose. The widget displays photos from your albums as a slide show. Tapping the picture, however, does not open the picture for a larger view.
To install these widgets on your device, you need to have iOS 5 running and the device should be jailbroken. To begin, you need to add the following repository in Cydia: thebigboss.org/ios5beta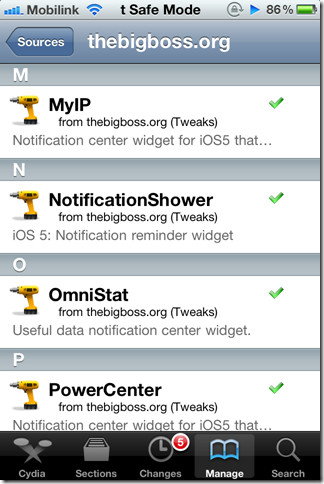 Once added, open up the repository from the Sources tab in Cydia and install the widgets you want on your device. Once you have the widgets installed, you need to respring the Springboard. You to adjust the order of the widgets and to choose which one to show in the Notification Center, navigate to Settings > Notifications and sort the widgets out. Bare in mind, though, that you might experience considerable lag in the Notification Center if you add all of these widgets at once.