Motorola Droid Bionic – Boot Sequence & 4G Speeds Revealed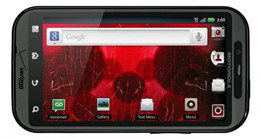 Earlier, there were a few pictures that were leaked on the Internet showing off the Droid Bionic along with some leaked specs. Now we not only have that, but recently a video showing the boot sequence of the Bionic along with a good old 4G speed test has been released by our friends over at Phandroid. The phone does sport dual core processors as would be evident from the video. If you missed out the specs earlier, the phone will have a 4.3" qHD display powered by Dual-Core 1Ghz ARM Cortex A9 CPU and a PowerVRSGX540 GPU. It also sports an 8MP camera which is capable of recording videos at up to 1080p. Also included is an HDMI 1.4 port, support for 4G LTE and WebTop capabilities while running Android 2.3.4 Gingerbread.
The video you see below is courtesy of Phandroid.
You see the Dual Core monstrosity as soon the phone boots up. The Moto Blur UI, seen for only a brief moment there however, does seem much snappier and slicker contrary to how sluggish the UI has been for a while now, but with these new generation of Motorola's Android devices, they seem to be really getting a grip on things.
Now, as far as the 4G LTE speeds are concerned, speeds reach up to 4.5Mbps down and 1.9Mbps up and those may fall pale in light of the speeds achieved on the Droid Charge or the Revolution for that matter, but do note how the phone only has 1 bar of signal. Quite possible, this phone, was just a test unit, and with the actual release hopefully in September, we may see improved results for the device.