Motorola i886 iDEN Android Phone Specs And Price
With the recent boom in smartphone popularity around the world and especially in the developed world, variety and uniqueness are two factors that mobile phone manufacturers are currently seeming to work on now to cater to all segments of the market, and have a device available for everyone's needs! The all new Motorola iDen i886 Android phone is a rather uniquely designed phone that sports dual keyboards and despite looking somewhat similar to Nokia's N90 communicator, has its own personality. As always, we're bringing you its spec sheet and price information, so read on after the jump to learn more.
The slider keyboard looks pretty good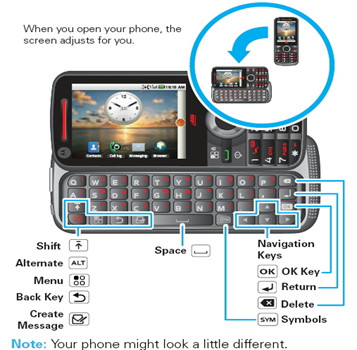 as the size of the keys is capacitive and might allow comfortable QWERTY experience. The under screen keyboard seems to be an ordinary straight keypad overlooking the screen size.  Here are the specs of Motorola iDen i886 Specifications:
Android OS
Push-To-Talk
GPS
Accelerometer
2 Megapixel Rear Camera
MicroSD Card Slot
3.5mm Head Phone Jack
PTT Button
Dedicated Camera Key
Bluetooth
Wi-Fi [not sure about this yet, but highly likely]
As you can see from the specs, the phone is a pretty mediocre Android device that might cost under USD 200 without commitment. The phone is in the FCC right now and there is no estimated time of availability attached to this device yet.
If you ask for our personal opinion, the phone has failed to impress us with its looks and the screen size sacrifice doesn't make things any better either due to the top keyboard. Geeks and entry level Android users with knack for texting, IM-ing and emailing might find this phone useful though.