Motorola Photon 4G Receives First Custom ROM [Download & Install]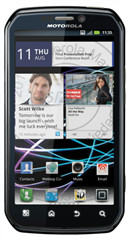 With root in place, ClockworkMod recovery installed and the recent SBF leak for the Motorola Photon 4G, the ground is all set for custom ROMs to start pouring in. Well, they haven't exactly poured in as yet, but we do have the first custom ROM for the Photon 4G released today courtesy of XDA-Developers forum member kennethpenn. The ROM named Photon Laser is almost 100% based on stock elements but with a few optimizations packed, that may help this ROM appeal to you.
According to the developer the ROM has not been tested at all by him, as he does not own a Photon 4G. With that we'd like to add that according to some feedback on the forums, the ROM has a bootloop issue that is in the works to be resolved. So for now, you can read all about the features of this ROM and we'll tell you how to install it, but we will not post a download link and instead will point you to the official page so you can download the ROM when the bug is fixed.
The ROM however, sports the following features:
Based on the latest Motorola leaked SBF.
Max events per second (better scrolling).
Proximity sensor modified.
GPU fix (better graphics in some applications).
Increased VM heapsize.
Increased Wi-Fi scan interval (battery life).
Widget Grouper.
Motorola only bootscreen.
Ad blocking via "hosts" file.
Deodexed and zipaligned.
PNG optimized.
Webtop-over-HDMI hack (thanks _unknown!).
SD card speed hack.
Memory killer hack.
Juwe11 optimizations modified for Tegra 2 with 1 GB of RAM.
Latest Android 2.3.5 system application framework.
Droid 3 Camera with 1080p capture.
As for the download, head over to the forum thread at XDA-Developers and wait for build # 3 which will hopefully resolve the bootloop issue. As for the installation once the new build is up, here's how:
Disclaimer: Please follow this guide at your own risk. AddictiveTips will not be liable if your device gets damaged or bricked during the process.
Requirements:
Instructions:
To begin, (provided you have the ROM downloaded and it is not the one with the bootloop issue) copy the ROM to the root of your SD card.
Run the app System Recovery and accept the superuser request.
Now plug your Photon 4G in the wall charger and press Recovery Reboot.
This will boot the Photon 4G into Tenfar's CWM recovery.
Navigate to install zip from sdcard > choose zip from sdcard and select the ROM.
This will begin the installation process so sit back and let it install. Once it completes, simply reboot the device.
That's it, your device should boot into the new first ever custom ROM for the Photon 4G. If you're stuck in a bootloop, you dint wait long enough.