Motorola Shadow Specifications Leaked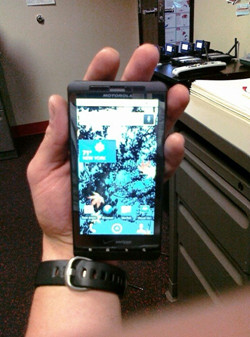 It seems as if the Tech God is seriously merciful on Gizmodo, as they are out with yet another awesome leak. As per claims and evidence snap, it is now understandable that Motorola Droid Shadow is about to surface.
The story detailing revealing events of this Moto Droid gadget are as fishy and sensational as they were for that iPhone OS 4.  This time it's not a German bar but someone was careless enough to leave their Motorola Shadow running Android in Verizon's corporate gym in Washington.
From the look of it, it is evident that this phone will be Verizon's throw and will definitely be having a 4.3-inches display screen. Other Specifications reveled uptil now are :
HDMI Jack
8 MP rear-facing camera
Snapdragon processor ( Maybe 1 GHz)
16 GB of Storage
A refined Motoblur User Interface
All these details and events seem to back the notion of this Motorola Shadow device to come with Verizon for sure. We will be covering this story as more details regarding this leak are unearthed.