Multitask Directly From iOS 5 Notification Center [Cydia Tweak]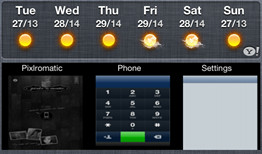 Multitasking is something iOS devices have excelled in, where the app switching is fast and smooth regardless of the app you're switching to or from. However, most do not find double tapping the home button to bring up the multi tasking bar all that convenient (or smooth), for that matter. With the addition of the Notification Center in iOS 5, there is hope that the way we multitask on out iOS 5 devices, may evolve, if not change entirely. As always, we find developers at Cydia taking the initiative, and WeeSpaces from the BigBoss repository is one such example. This tweak will show you the apps running in the background right in the Notification Center, in the form of pages or snapshots that you can scroll through.
The widget however, has its limits. For now, the tiles presented for preview aren't live, and most importantly, you do not have the option to close any app from this widget. Nonetheless, it does give an aesthetic upgrade to the Notification Center as a whole.
To install this widget, simply look for WeeSpaces For Notification Center in the BigBoss repository, or, alternatively, you can search for it in Cydia's search section. Once installed, you may be asked to restart the Springboard. As with almost every other widget installed for the Notification Center, run Settings > Notifcations and drag the widget into the In Notification Center panel.
Below you can see the widget in action, courtesy of iDownloadBlog.
WeeSpaces for Notification Center