My Sync Center: Automatically Sync Data Between Android & PC Over WiFi
Almost a month ago, we covered Cheetah Sync – a free Android app that provided two-way data sync between your device and your PC over a commonly shared Wi-Fi connection. While the free variant of the said app allows users to manually sync just one folder at each sync instance, My Sync Center – a handy replacement for Cheetah Sync with dual-way data sync support – lets you specify multiple custom folders on your device, as well as on your PC, and syncs them automatically over the same network. In addition, My Sync Center supports syncing some of the most common content/folders from your device (music, pictures, videos, ringtones, alarms et al ) to your PC, and vice versa. Furthermore, My Sync Center extends its support to even sync your iTunes-music based on various categories (tracks, albums, artists). All you need to do is specify the desired folders on your device as well as on your PC, and let the app sync all the content automatically. The app supports manual syncing of data as well, and keeps you informed of the sync status via status bar notifications.
As with all other similar apps that support syncing content remotely, My Sync Center, too, requires a desktop client installed on your PC. The desktop client currently works only on Microsoft-based operating systems, while support for MacOSX and Linux will be added soon. You can download the client from the official website of the app's developer.
Setting up the desktop client, as well as the app, is as simple as one-two-three. From the client perspective, all you need to do is drag & drop all the various folders and/or iTunes music library contents from your computer into the client under relevant tabs. Remember that all content can be synced only from the mobile client. and not from the PC.
Configuring the app is simple too. When run for the first time, the app prompts you to specify the category-based folders on your device that you wish to sync, and provides you with a secret numeric code that you must feed in to the desktop client in order to establish a secure connection between the device and the PC. From the app's Settings screen, you can pair your device with a new PC, specify content categories that you want to sync and reset the default folders for music and video files on your device.
The Backup screen on the app lets you add custom folders on your device that you wish to remain in sync with your PC – an extremely useful feature if you're looking to effectively backup/restore device data (including system folders as well) to/from your PC. Long press on a folder to remove it from this list.
Although the app supports automatic syncing of selected content to/from PC, it does not let you specify the sync time, thereby meaning that either you have to wait for automatic sync to take place, or press the big, green Sync button on the app's home screen for manual operation. You'd also notice a toggle for Restore Mode just under said button, which, if enabled, can be availed to restore all data back to the device from the PC (provided you haven't deleted it from your PC, too).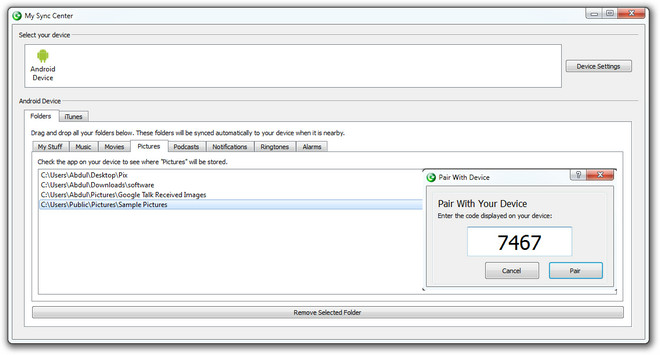 Syncing mechanism of My Sync Center was successfully tested during our brief run, with the desktop client running quiet smoothly on Windows 7 (64-bit edition) and the app doing its job effectively on HTC Desire Z. On this note, you must remember that My Sync Center requires Android OS 2.2 or higher to run.
The only restriction with this otherwise-robust app is that its free version lets you sync a total of just 25 files at a time, after which you have to manually push the Sync button from within the app. However, you might be interested in the paid variant of the app that lifts any such restrictions, and allows you to seamlessly sync multiple files/folders between your device and PC. The paid version of My Sync Center is available in the Android Market for $2.02, and download links to both the paid as well as free version are provided below.
Here is a video that quickly demonstrates how easily you can set up the respective apps on your device/PC and sync data between them.
Download My Sync Center Free w/iTunes for Android
Download My Sync Center w/iTunes + WMP for Android (Paid)