N3xGen Theme Manager: Market For Android Launcher Skins & CM7 Themes
Android users, in general, simply love customizing the looks of their device through various themes and launchers. This is perhaps the reason why we find the Android Market literally brimming with umpteen number of diverse themes and an equal number of budding theme designers with innovative ideas. Having said that, exploring the Market for themes and selecting one from countless choices is never easy. I mean, circling among themes relevant to a specific launcher is one thing, but what if you were to use a theme from a different launcher without having to scour through the market in search for all the various themes on offer? That is where N3xGen Theme Manager comes in. N3xGen Theme Manager is a free app (effectively, an online theme store) that fetches various Android themes from the Android Market and gathers them at a single place so that you do not have to dig deep into the Market in search of a good one. As of now, the app displays themes for three of the most popular launchers out there (GO Launcher EX, Launcher Pro & ADW Launcher) and Theme Chooser compatible themes for the acclaimed custom ROM CyanogenMod 7. The app supports searching themes by keywords, categories, developers as well as their availability (free/paid).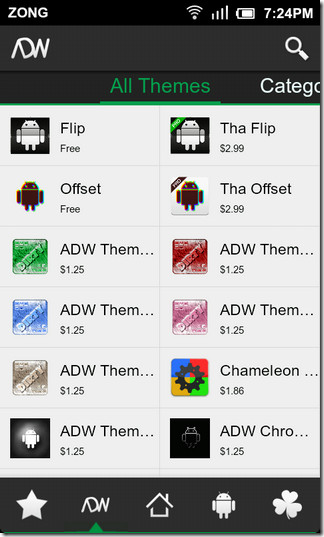 Looking at the Holo goodies in the screenshots above, one doesn't require a second guessing that the app's interface matches that of Ice Cream Sandwich, the upcoming installment of the Android operating system. You'll notice the similarity between its looks and those of the new Market and Google+ app at the very first glance.
Browsing themes with N3xGen Theme Manager is quite easy. On the homescreen of the app, you have all the Recent Themes listed along with their title and price (if any). To browse through various theme Categories and Developers, just swipe across the screen.
Tap the icon of any theme you like to jump to its description and view its screenshots. Hit the Download button to head over to its Market page.
The app's still in beta and going by the developer's word, many more attractive themes from various other launchers are going to be included in its already-quite-rich repository.
Note: To apply your favorite themes, you need to have a compatible launcher (or CyanogenMod 7) installed on your device.
N3xGen Theme Manager is available in the Android Market for free, and can be downloaded via the link provided below.