Never Forget Anything, Use Evernote On Windows Phone 7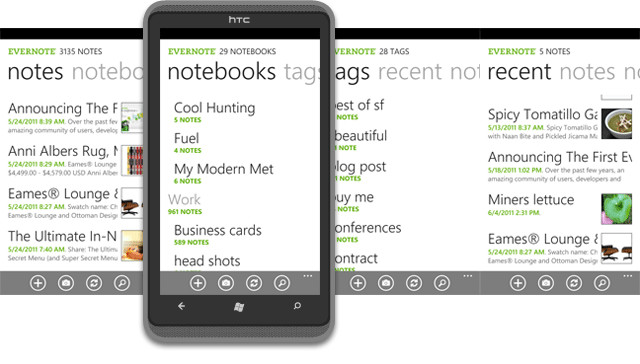 Evernote has been around for quite a while on PC and many of the present mobile platforms like Android and iOS. It is a really addictive service which has won over many users in the time it has been around. One of the disadvantages of being a user of Windows Phone 7 is the deficiency of a large number of apps developed for this OS. However with the passage of time this situation is gradually improving. If you love your WP7 device but miss some of the apps that are available on other platforms and on PC, then it will come to you as a pleasant surprise that now you can use Evernote on your Windows Phone 7 too. Released a couple of weeks ago, this app comes with all the familiar functionality of the web version coupled with features made exclusively for WP7.
The app makes the most out of the native features of WP7, which make it quite easy to handle and pleasing for the eyes. You can sync the work you do in Evernote with any other device that you connect to, even if it is running a different version of the app. Following are some of the most eye-catching features of Evernote for WP7.
Snapshot:
Suppose you are visiting a beautiful hill station, and feel like writing a note about it. You create a note using Evernote and start writing. But wait, what happened to "A picture is worth a thousand words"? Not a problem. Simply click the Snapshot button present in the app, which will take you straight to your phone's camera. Take a picture of the scene in front of you, and voila, you now have a picture integrated with your note.
Sharing:
Evernote makes it really easy for you to share your notes with your Facebook friends. Simply select any note you want to share, tap the Facebook icon, login and your note is published to your profile.
Searching:
This app gives lots of importance to fast and optimized browsing of notes. What's the point of having a note when you can't find it on time? So there are features like note list, tags and recent notes to keep required notes right on your fingertips.
Mapping:
One thing that you certainly can't do with Evernote on your desktop computer is mapping. This cool feature gets your current location using Bing maps and saves a reference to the location where the note was written.
So there you have it, a free app with lots of features to make your life easy, and that's why the app is definitely worth a try.
Download Evernote For Windows Phone 7