New Launcher Widget – Recently Installed Apps On Home Screen [Android]
If you are an Android user who often needs to install and test multiple apps on your device on a daily basis, then surely you must be facing problems keeping a trace of all recently installed apps. New Launcher Widget is a free home screen widget that keeps track of as many as six apps that you recently installed on your device and allows you to perform various operations on all apps. With New Launcher Widget, you can easily view recently installed apps on your home screen, uninstall an app, visit the Market link of a particular app, create home shortcuts, open app information and share the app with your mail, Facebook and Twitter contacts.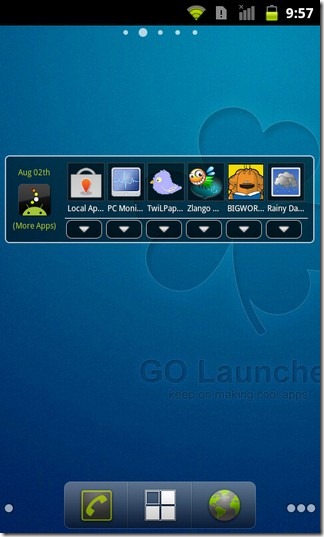 Installing and using New Launcher Widget is fairly simple. Once the widget is installed, long press on a vacant area on your home screen, select Widgets>New Launcher and you're done. New Launcher then loads the last six installed apps right on your home screen, packed in a tiny widget. Tapping the thumbnail of an app launches it for you while taping a small arrow at the bottom of each thumbnail displays the widget menu from where you can perform the various functions mentioned above. Once tapped, you're presented with a context menu that includes the options to share the app, uninstall it, visit its Google Play Store page, launch the App Info screen, or send its shortcut on your Android's home screen. The widget takes up to one minute to load the first time it is added to the home screen.
All in all, New Launcher widget is a handy little tool for users that frequently have to try out several apps on their devices but find it hard to locate and uninstall them later on. The widget is available in the Android Market free of cost and is surely worth trying.
 Download New Launcher Widget for Android
Update: New Launcher Widget seems to have been removed from the Google Play Store. However, that was not the only way to sneak peek at your recently installed apps. Coincidentally, there is a home screen widget called Recently Installed Apps Widget available in the Google Play Store that does exactly what its name suggests. Like all Android home screen widgets, the method to install the Recently Installed Apps Widget on your home screen is the same as mentioned in the review above. Recently Installed Apps list costs $0.99, and can be downloaded through the Play Store link provided below.
Download Recently Installed Apps Widget For Android