News Booth For iPhone: Add A News Report Frame To Your Photos
The iOS App Store is full to the brim with fun-oriented apps, and it takes a lot of time to separate the junk from something which is really worth a download. An app which is just for fun might prove to be a useful addition to the app list of your iPhone, iPad or iPod touch, as there are many apps which let you perform complicated task in an easy way. News Booth is a good example of such apps, and although it doesn't have lots of options, it is focused on letting you perform the task it is designed for in the most efficient manner possible. Using the app you can make any photo look like it has been pulled from a news broadcast of a TV channel, complete with custom text and changeable themes.
Using the app is as simple as you can imagine. Upon launching the app you are told to select a photo for editing, and there are options for choosing from your iPhone's photos library, or snap one straight from the camera. When you first choose to load a photo from the library, you will have to allow News Booth to use your current location, and then restart the app if the pictures fail to load. After the photo has been selected, hit the OK button and you can start customizing the image.
The first thing which needs to be done after loading a photo to News Booth's editor is the image's adjustment. A grid is overlaid over the photo, and you have to drag it around to place the image perfectly within the frame. The app also lets you resize the image via pinching. Once you are satisfied, tap OK. This will take you to the main editing page, and from there you can select one of 4 listed themes. All themes are designed to look like a screen from a news channel's Breaking News broadcast.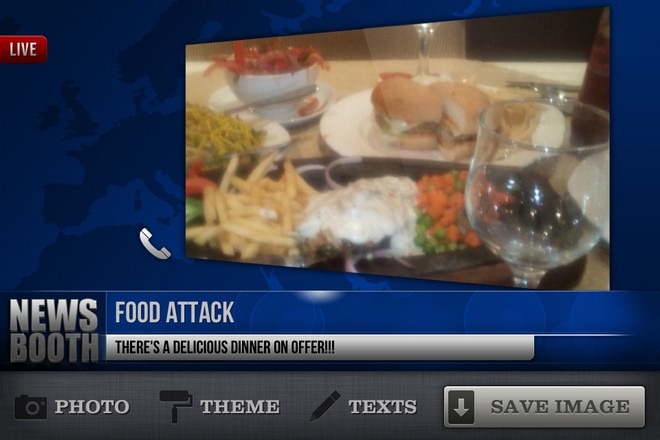 Once all that has been done, you can add the headline and caption to the photo. Depending upon the chosen theme, your text and photo's colors will be adjusted automatically, and you can save the image afterwards. The save page also offers sharing options, which include Facebook and Twitter sharing buttons.
News Booth only works in landscape mode, owing to the nature of the task the app has been designed for. You can grab it for free for a limited time by heading to the download link below.