NowBox For iPad: Virtual TV Guide For YouTube Videos Of Your Liking
Searching for your favorite episodes and songs on YouTube can be so exhausting at times. Things would be a good deal easier if you could train an app to look for your favorite channels on YouTube, so that each time you launched it, all your favorite videos would be available on it. NowBox for iPad relieves you of the daily headache of scouring YouTube, so that you can spend more time watching videos than searching for them. Share your favorite videos, songs, season, or movies with your pals on Twitter and Facebook, discover new channels from various categories offered by NowBox or simply search your favorite channel with this app and subscribe to it. Keep reading after the break to explore NowBox in detail.
NowBox offers a fluid and slick interface which does not require much figuring out. The app opens to a Subscription Setup wherein you have to select from a list of categories and authorize the app to connect to NowBox through your YouTube, Twitter or Facebook accounts.
The app takes a few seconds to figure out the Top YouTube Channels from your chosen categories. Just tap Next and sit back to enjoy great videos by YouTube in high-definition offered by the app. If you do not like the channels set up by NowBox or feel like subscribing to more channels, then tap the TV icon to look for more channels under the categories offered by NowBox. Also, you can tap the search icon and type the name of your favorite channel to Subscribe to it.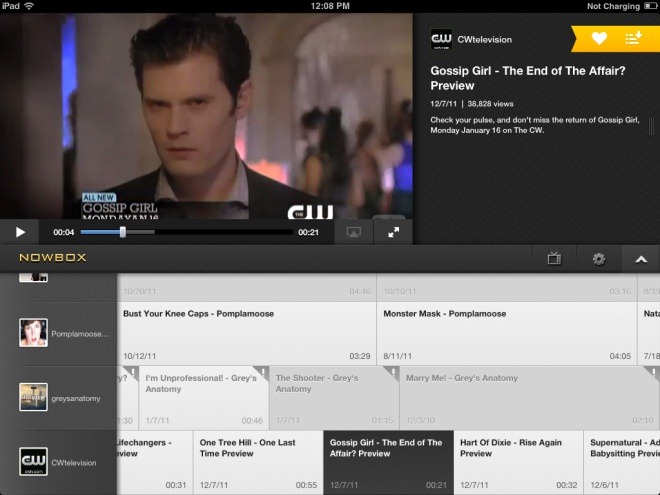 Share what you are watching with your Friends on Facebook and Twitter along with a short description by tapping the yellow button on the top-left. To browse through the videos available in the subscribed channels, swipe you fingers over the bar adjacent to each. An exclamation mark over a video depicts it's unavailability. If you want to look for a particular channel, you have to swipe you finger vertically on the list of channels to browse through them. For a detailed view of the entire list of subscribed channels, tap the arrow on the right of the screen.
All in all, NowBox is meant for ease of access. If you spend quite a bit of time browsing through YouTube manually, searching for videos that might interest you, then you'll find the app to be quite handy. It is available for free on the iTunes App Store. The link below will take you to its App Store page.