Discover The Best Android Games For Your Tegra-Powered Android Device With NVIDIA Tegra Zone
Are you a gaming fan and got yourself an NVIDIA Tegra powered Android phone or tablet to enjoy high-performance hardware-accelerated gaming on your device, but having a hard time finding games optimized for the Tegra platform? Your game finding worries should now be over, as NVIDIA's Android game-discovery app, the NVIDIA Tegra Zone has been officially launched and is available for download from the Android Market for free. The app is a one stop shop for the best Android games out there – "The Destination for Mobile Games", as claimed by the folks at NVIDIA – and a place where you can share your favorite games with your friends. More information after the jump.
As more and more of us are buying smartphones and tablets, the manufacturers are improving these devices immensely for all segments of population and their needs. A big segment they have increasingly started targeting is the mobile gaming enthusiasts. Due to this, now we have access to powerful smartphones and tablets that offer a console-quality gaming experience and NVIDIA's Tegra based devices are amongst the leading ones in this category.
There is one problem though – good Android games are hard to come by which is why mobile gaming enthusiasts often turn to other mobile platforms. That's why NVIDIA Tegra Zone is a welcome arrival for Android users all around. The app allows you to discover the best Android games out there, complete with price, ratings, professional game reviews, high-resolution screenshots and related HD videos. Think of it as an Android Games Market exclusively for users of Tegra devices.
In addition to browsing through the collection of games available there, users can also share pages viewed on Tegra Zone with friends via social networks. To share a page, simply press/tap the menu button on your device while on it and select Share. This lets you easily get your friends in on the action when you come across a game you really like.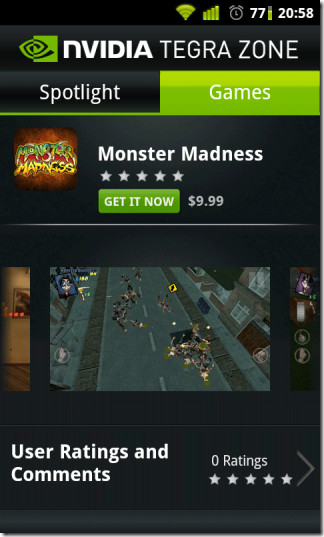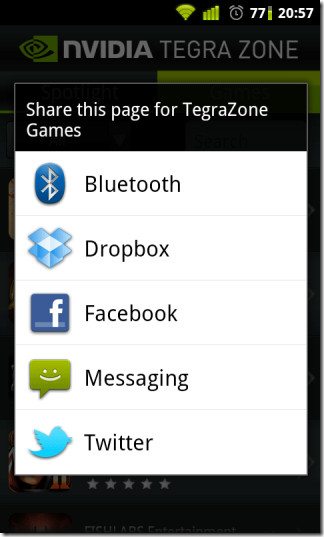 Uses will be able to browse through a comprehensive database of high-end Android games, with a load of material to help them decide which ones they want to buy. Note that NVIDIA Tegra Zone doesn't offer downloads of the games itself; the games are linked to their Android Market pages from where they can be purchased and downloaded. This is an even better convenience, as you don't have to provide your payment information to and manage your purchases on yet another app market.