ObscuraCam For Android Detects Faces In Photos & Conceals Them
The photography genre of Android apps is vast enough to offer you almost every type of flavor. There are simple photo snapping apps, countless photo editing monsters, apps that bring all the snazzy and exotic filters and effects to the table, alternatives to your Android's stock gallery, and whatnot. Then there are a few candidates that offer some weird, yet fun-filled, options, such as presenting you with a photobooth like interface, let you swap your face with some other person in the photo, and let you transform your photos in any way you like. Now, should you feel like getting your hands on an app that lets you distort a specific portion (specifically face) of an image, we have got a very handy solution for you. Better yet, if the app could automatically detect unwanted faces in the image, your task of hiding those faces would become all the more easier.  ObscuraCam is a free, handy tool for Android that uses facial recognition to detect faces within snapped/imported photos, lets you conceal them with any of the four available obscuring effects (Redact, Pixelate, Background Pixelate, Masking) and share the results with your friends. Effectively, ObscuraCam resembles Privacy Camera for Android but with slightly enhanced interface a few additional features (for instance, the face identification and image sharing features). Join us after the break for more.
The standout facet of the app is indeed the Face Detection option which enables you to detect out any faces within your images quite easily. Once a face is detected within an image, you can easily play around with it and perform the aforementioned tweaking actions on it. The tweaked image can be saved and shared as per user discretion.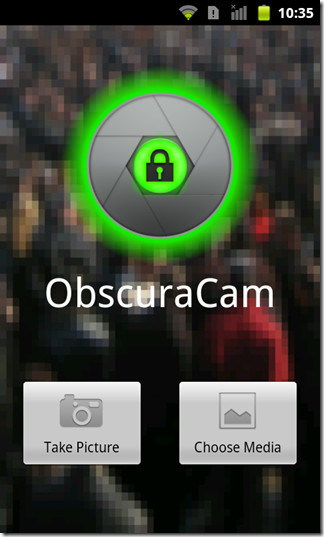 Fool your friends by sharing with them their own confusingly transformed images through ObscuraCam. The app enables you to look at the preview of the edited image before you decide to save, share or delete it. ObscuraCam works equally effectively even if a face is not detected in an image because you can still apply various actions on a selected portion of any image you wish to. Once launched, the app prompts you to select your required source of image. In this regard, you may capture a fresh snap or import one from your device's gallery.
All in all, ObscuraCam is a fun way of passing out some quality time playing around with your snaps and concealing them in different fun-filled ways.
Download ObscuraCam for Android