Official 2012 Australian Open App Released In The Android Market
Cometh the 16th of this month (January 2012), focus of tennis fans from all across the globe will shift to the action from down under, as the first of the four major tennis tournaments of the year, the Australian Open Tennis Competition 2012, gets underway. To ensure that you do not miss out on any of the sizzling action from the hard courts of Australia, Tennis Australia, in affiliation with IBM, have released the official Android client for the tournament. Available in the Android Market by the name of 2012 Australian Open, the app packs enough statistical and multimedia content to keep you apprised of all the action from upcoming, live, as well as concluded, games. Latest news, live scores and radio commentary, updated fixtures and photo gallery, player profiles, interactive event guide and on-demand video coverage including player interviews, latest highlights, reviews and previews of matches, are among the numerous features that the app has to offer to the fans.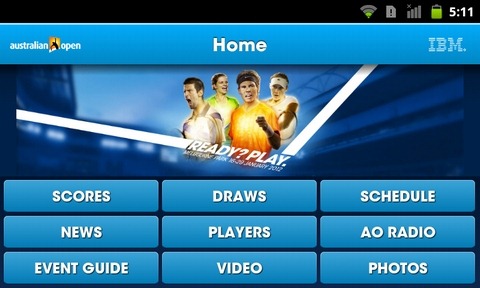 With the official 2012 Australian Open app at your fingertips, you do not need to log in to various websites to get live feed of all the action as it unfolds. Instead, just fire up the app on your device, and select from any aforementioned feature/category that you wish to explore.
Tennis fans travelling to the country to attend live games can benefit from the hugely informative event guide included within the app. Apart from enjoying the fierce on-field battle, there's plenty more that the fans can do in between matches to keep themselves busy. For instance, you may use the app to find out the points of interest (POI), amenities and parking facilities nearby the arena.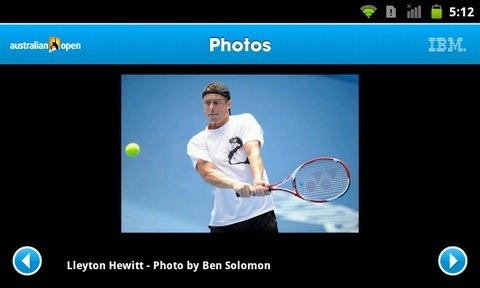 This is where the Event Guide section of the app lends its help. Ranging form the Survival Guide to interactive Seating Charts in both Rod Laver as well as Hisense Arena, and from ticketing information to various places on interest, you can find all the important information that you might require while on tour.
To shift your focus back to the action from the field, you can make use of the Scores, Draws, Schedule, News, Players, AO Radio, Video and Photos buttons provided on top of the app's homescreen which truly forms the base for accessing virtually any aspect associated with the event.
The Draws segment of the app starts filling up from the 13th of January, when the draws actually take place.
Download 2012 Australian Open for Android