Official App For New Social Network Chime.in Available For Android & iPhone
From the developers of Ubersocial for Android (formerly known as Twidroyd) and the suite of Twitter mobile/desktop clients and browser extensions known as Echofon, UberMedia has stepped into the social media circus with their very own network, releasing iPhone and Android clients for it the very next day. Chime.in is essentially a mashup of Twitter, Facebook and Reddit that allows users to follow what's going on around the web according to their interests and reap monetary benefits from their posts (called "chimes" that include textual status updates, photos, videos, links and polls) through the network's advertising service or their own ad networks.
The network has released its clients earlier than most would and so, it is only natural for it to be missing a few features. You can choose your interests from within the app, view your timeline (smartly termed "My Chimeline"), like/ comment on individual Chimes or share them with your followers, post your own Chimes, but you can't register for a new account or follow other Chime.in users from within the app and there is no support for notifications yet.
However, one aspect that the company hasn't compromised on is the interface, which is extremely smooth, innovative and easy on the eyes. The UI of the iOS variant is a tad better (aesthetically) than that of the Android version, but other than that, there isn't much difference between the two.
You can attach a photo with each Chime you post using the app. Support for polls, videos and links is yet to be added. Adding interests to your Chime improves its chances of being viewed by people browsing the network for the relevant niche.
The search option of the client (Menu > Search in the Android variant) is, as of yet, my favorite part of the app and the network itself. Instead of just displaying interests, users, communities and Chimes that match your query, said option actually lets you follow every result that appears under that query. It's like Twitter's Lists feature but way faster. Just enter a query and the app will automatically create a feed of relevant Chimes from all over the network. Tap the Follow button in the top-right corner of the screen and the feed will be added to your Chimeline.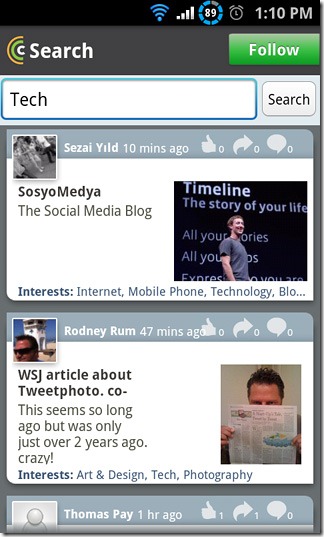 It's too early to judge whether the network and its clients will be a threat to the current head honchos of social media. It isn't as of yet; that much is pretty clear, but with its fast custom feed creation and provision for monetization, it does have potential to attract a large userbase.
Links to both variants of the network's mobile client are provided below.