Official Babylon Translator App Makes Its Way Into The Android Market
Computer users have been benefitting from the comprehensive dictionary and translation-based application of Babylon for quite some time now. To help mobile users find translations regarding the selected text bits/terms on the go, the official Babylon Translator app was released for Windows Phone 7 almost a month ago, and now it's time for Android users to get their hands on this mighty helpful tool.
Resembling the looks and, for the most part, the functionality of its WP7 counterpart, the official Babylon Translator client for Android also brings an additional functionality of clipboard monitoring. What this means is that apart from providing you with its multilingual translation services natively, the app keeps helps you instantly find translation of copied/selected texts in your preferred language. Said feature, when coupled with a well-designed interface, makes Babylon Translator a handy tool to have on your Android device, especially if you're frequently required to work with various global languages. The only caveat to accessing the app's translation services is that your device must have an internet connection.
It must be mentioned here that Babylon Translator is not the only app of its kind. Previously reviewed Universal Translator and Speaklip also offer somewhat similar features. However, Babylon Translator has to be put right ahead of most of its counterparts for its interface and functionality.
The app's homescreen is comprises two main buttons: Term and Text. On the Term screen, you have a search bar using which you can conduct your manual queries via required keywords (in US English only). Tapping the '+' button below the search bar lets you select the required language(s) for translation. Each new language is added as a separate tab that can be pressed to convert the desired word into that particular language. The app also displays relevant Wikipedia information about the required words for selective languages.
Tapping the Text button at the bottom takes you to another screen from where you can start translating complete text phrases into a language of choice. The reverse translation feature available on said screen is handy too, as it lets you instantly switch between the source and target language with a mere tap.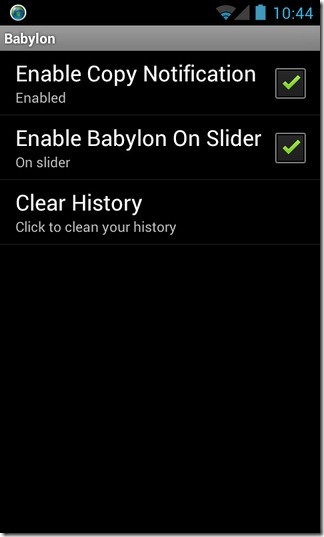 The clipboard monitoring part of the app is quite useful in itself. In this regard, you can see the app's icon in the notification bar that indicates that the Babylon Translator service is running in the background. Now, as soon as you select/copy some text from within a mail, text message, or website, it is automatically exported to the app from where you can easily convert it into a desired language. Tapping Menu > Settings from within the app's interface takes you to the settings screen from where you can manage the app's notification icon, clipboard monitoring service, and/or wipe the app's search history.
Download Babylon Translator for Android