Official Cloudfogger Android App Released For On-The-Go Access To Encrypted Cloud Data
Cloud data encryption tools, such as BoxCryptor and Cloudfogger help you secure your computer, mobile and cloud content by providing with you an additional layer of security. By encrypting data through such tools, users are assured that their precious local and cloud content remains safe from any sort of unauthorized access, whatsoever. The aforementioned application, Cloudfogger for Windows, was reviewed in March 2012. At the time of review, the application supported integration with cloud storage giants, such as Dropbox, Box and SkyDrive etc., and provided you with a separate virtual drive on your PC in which you can simply drag and drop your cloud/computer data to get it automatically encrypted and shared with the associated cloud storage account. Now here's some good news for all you Google Drive account owners and Android users. Cloudfogger has expanded its pool of supported cloud services by including the recently launched Google Drive to the club. In addition, the service has also launched a beta of its official Android client that lets you easily decrypt your Cloudfogger-encrypted data right on your mobile device.
The official mobile client of the service is currently available only for Android, whereas the iOS variant is in the pipelines. As just mentioned, the official Android client of Cloudfogger is currently constrained to letting your decrypt your cloud content. To encrypt data, you'll still have to resort to the Windows-based desktop client. It is also worth mentioning here that Cloudfogger uses the reliable AES encryption technique to fully secure your valuable data.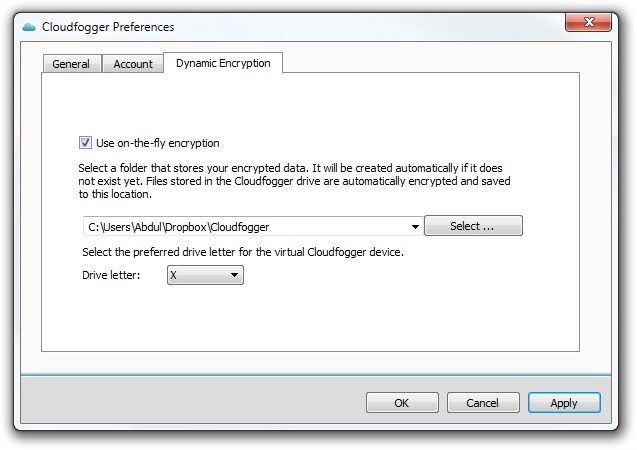 During the initial configuration, the desktop client scans your computer for the respective applications/clients of any supported cloud services that you might've installed. For instance, if you're a Dropbox user, Cloudfogger will identify the Dropbox folder on your computer and automatically sync all the underlying folders with its own virtual drive. In addition, the application also lets you share encrypted content with other Cloudfogger users. Once the desktop application is properly installed and configured, you can start encrypting, syncing and sharing your computer files.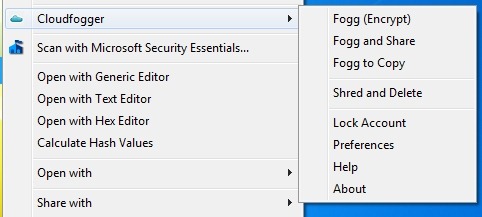 To achieve said purpose, all you need to do is log in to the Cloudfogger app using the relevant account, right-click on the desired file, navigate to the Cloudfogger option within the context menu, and select whether you wish to just encrypt, or encrypt-and-share that particular file. Dragging and dropping the file to the Cloudfogger drive automatically encrypts it, and syncs it to your relevant cloud account in the form of a .cfog file. Needless to say, encrypted content is only accessible by the user account that has been used for encryption. Once you lock the drive on your computer, the encrypted data becomes inaccessible by any external application.
Now we come to the Android client of Cloudfogger. Provided you have the official mobile client of your preferred cloud service installed, you can access and download all the underlying .cfog files to your device, but cannot access them until and unless decrypted via the official Cloudfogger Android client. This is where installing and logging in to the Cloudfogger mobile app becomes a compulsion. Configuration of the Cloudfogger mobile app is simple, and once you unlock your Cloudfogger account on your device, you can decrypt all the .cfog-files and/or email attachments stored on your device's local storage. The decrypted files can then be opened via any compatible app, as normal.
The mobile app's main preferences screen lets you configure your Cloudfogger ID, enable auto-unlocking the Cloudfogger drive content upon launching the app, clear local cache upon app reboot, and delete the encrypted source file.
The encryption/decryption mechanism of Cloudfogger has been successfully tested on Dropbox content using the Windows and Android client of the service. If anything, we would like to see the app allow users to sync their multiple cloud storage accounts at once, both on the desktop as well as the mobile client. Also, while the news of its iOS counterpart releasing soon is a good omen, most Mac and Linux users would be hoping that their respective desktop OSs get Cloudfogger support soon, too.
Download Cloudfogger for Android