Official Fashion TV App Released In The Android Market; Videos Galore!
If you're a fashion-loving person, then you ought to be a fan of the hugely popular Fashion TV – one of the most feverishly followed fashion channel all across the globe. Admired and acknowledged by men and women alike, Fashion TV brings you all the latest and hot-running stuff from the glorious world of fashion, courtesy of its beautiful models, designers, live events, TV shows, picture galleries and lots more. Here's some good news for Android users. The official Android client for said channel, Fashion TV, has just been released in the Android Market. Featuring all the exclusive and most sought-after Fashion TV content, including top models, weekly fashion updates, outfits, fashion films, events, parties, backstage stuff, VIP downloads and lots more, the app ensures that you do not have to resort to any websites or various third-party Fashion TV clients to get your dose of the latest fashion. The app features hundreds of high quality videos that you can watch, like, comment on, add to favorites, and share from your device on the go. There is also an option within the app to subscribe to the Fashion TV exclusive members list in order to download all the VIP content such as ringtones, wallpapers and plenty more on your mobile with just a few taps.
All the aforementioned content is presented on the app's homescreen under their respective categories, namely VIP Exclusive, I See It First, Fashion Week, Swimwear, Fashion Films, Fashion Events, Parties, Models and Backstage. Each category comprises several videos that are presented as thumbnails on a horizontally scrollable slide.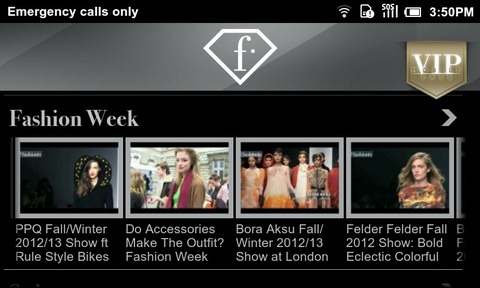 Tapping a video thumbnail takes you to another screen from where you can check out the detailed description and sharing stats regarding the video. From the same screen, you can explore the comments of other users or comment on the video yourself, like the video, add it to your favorites list, or share it with your buddies.
The app currently does not support native video playback. Instead, its lets you explore all the featured video content via your preferred browser or the official YouTube app.
While on the app's homescreen, you can tap Menu to check out all the downloadable Mobile Exclusive content, launch the Favourites list, navigate to the FTV Facebook page, or open the app's Settings Screen that lets you pick the video categories that should be displayed on the homescreen. From the same screen, you can also check the detailed history log of your in-app purchases.
Download Fashion TV for Android