Official Hyatt Hotel Android App Now Available On Google Play Store
If you're planning to make a reservation in a branch of Hyatt hotel for your upcoming vacations, and own an Android device, then you need not resort to any other means to so so, as the official Android client of Hyatt is now available in t the Google Play Store. Packed with details and quality multimedia content, the app is your one-stop shop for finding information relevant to your favorite Hyatt Hotels using your mobile device. The app expedites your task of searching, exploring and booking worldwide Hyatt hotels via your mobile device. You can also make, manage and cancel reservations, check in to and out of hotels, and explore the exclusive hospitality services offered by each individual Hyatt Hotel on the go. In addition, you can keep a tab on the weather forecasts of the chosen hotel's location, get tun-by-turn directions to it, check out local maps and contact details. That's not all; you can also manage your reservations, and check out all the special offers that the hotel has to offer.
Users with Hyatt Gold Passport subscriptions can avail the additional benefits of accessing their account details and tracking their points via the app. The app's interface is beautifully designed, where you have a total of three main tabs available on the homescreen that help you with finding worldwide Hyatt hotels, checking your reservations, and browsing through all the hotels added to the app's Favorite list.
On the app's search screen, you have the option to specify your preferred location, check in/out dates, number of rooms required and the number of people for whom you wish to make the reservation. Among other details, you are required to provide your preferred rate type, special offer code and group number (if any).
Once done, hit the Find Hotels button at the bottom to head over to the search result screen. You can view search results via list or map view. Tapping a hotel name takes you to its description page, from where you can explore all the information and detail relevant to it.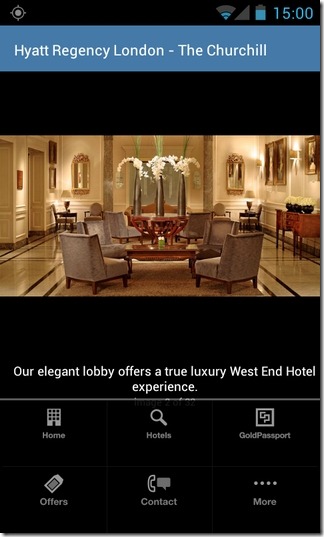 To access your Hyatt Gold Passport account, check in/out of hotels, avail special offers or return to the app's main settings, hit Menu.