Official TuneWiki App Now Available For Windows Phone 7
Popular music streaming and lyrics sharing web service TuneWiki hardly needs an introduction, owing to its ever-growing list of users. The mobile apps of the web-service have been around for quite a while for iOS and Android, and it was about time that Windows Phone 7 users joined the gang as well. Finally, the wait is over, as the WP7 version of the app has made its way to the Windows Phone Marketplace. This recent launch of the WP7 client for TuneWiki provides you with the option to search for songs and synchronized lyrics translated in over 40 languages, along with a wide variety of radio stations and SHOUTcasts, right on your WP7 device. Let's learn more about the features of TuneWiki for Windows Phone 7 after the jump.
The first thing that you will notice after launching TuneWiki for the first time is its simple yet easy-on-the-eyes interface. As with most Windows Phone 7 apps, it follows the Metro user interface guidelines. Though the developers have opted for a grainy, stone-textured background in contrast with a 2D-looking plain text, picture or simple pattern backgrounds most WP7 apps have.
Moving on to the functionality, you are required to log in with your TuneWiki, Facebook or Twitter account to share a favorite song or its lyrics on any of these networks. The sharing feature is quite useful, as it keeps you from having to manually send the link or copy and paste the lyrics of a song to serenade it to your loved one(s). You'll be able to find lyrics for almost any song from around the world, and in case you do not have the song in your collection, TuneWiki lets you buy it from the Marketplace.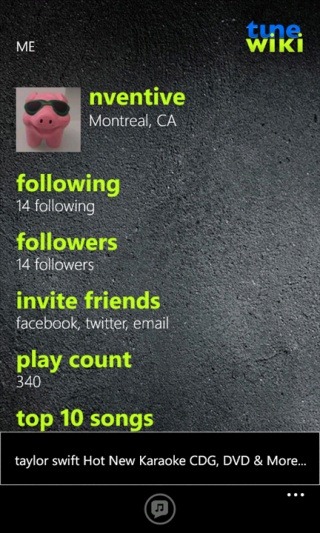 In addition, the app lets you invite your friends to TuneWiki, get an overview of your activities on the network, create playlists of your favorite tracks, subscribe to feeds of your favorite artists, and as mentioned earlier, offers a long list of SHOUTcasts available in your region. This SHOUTcast support is pretty nifty, providing you access to popular streams right from your phone while on the go.
Overall, TuneWiki is a solid app and a must have for every serious music enthusiast. The app is available for free in the Windows Phone Marketplace, and can be downloaded from the link provided below.
Got another favorite music streaming and lyrics sharing app for Windows Phone 7? Let us and our readers know about it by leaving a comment below, and joining the discussion.