Open More Than 9 Pages In Safari On iPad, iPod Touch, iPhone With Tab+
Tab+ is a free Cydia app for iOS devices that allows users with jailbroken iPad, iPhone and iPod Touch to extend Safari tab limit beyond nine. This little but useful utility can come in handy if you are a hardcore Safari browser and want to have more than 9 new pages / tabs opened simultaneously. The app certainly is a gem if you are looking for free utilities for your iPhone, iPad and iPod Touch. According to the developer of this app, the main target of this utility is iPad owners but the app is also compatible with iPhone and iPod Touch. We tested this app on our iPad 2 jailbroken with JailbreakMe 3.0 on iOS 4.3.3 and it exactly does what is claims.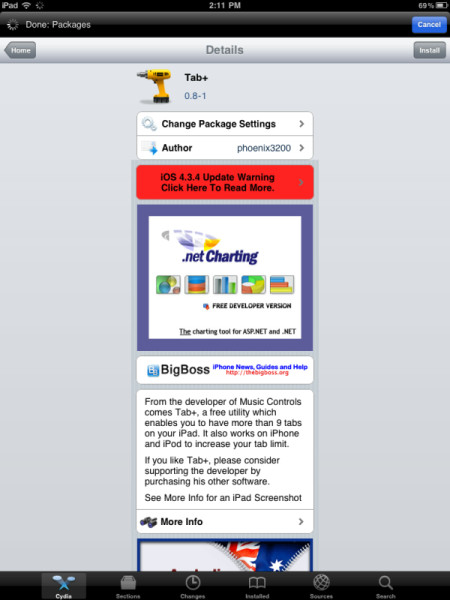 Here is the step by step guide to open more than 9 tabs in Safari on iPad, iPhone and iPod Touch:
1. The first step is to make sure that you have jailbroken your device on it's respective iOS version with Cydia installed.
2. Now tap on Cydia
3. Once you can see the Cydia interface, tap on the search icon.
4. In the search bar type "Tab+" without quotes.
5. Once you can see Tab+ application screen, tap on "Install" tab on top right corner of the screen.
6. Once the installation is complete, tap on "Restart Springboard".
Now launch Safari and try opening more than 9 tabs using "Open In New Page" option on any website of your choice. If new tabs / pages keep opening after 9; Tab+ has certainly worked. Enjoy!
We managed to open 11 Safari windows simultaneously [Screenshot Below]: