Overclock And Undervolt Sony Ericsson Xperia Android Phones With SetXperia
If you are a Sony Ericsson Xperia Android phone owner and were looking to Overclock or Undervolt your phone, then there is some great news for you. Senior XDA Member, inteks, is out with his SetXperia, CPU voltage control app that easily allows you to overclock or undervolt your Xperia series Android device. The app has been tested and is compatible with Sony Ericsson Xeperia Neo, Arc, X10 and X8. However the developer suggests that this might work on other Xperia devices as well. The app can be taken as a SetCPU alternative and offers scores of different feature that let your keep a close tap on your phone's CPU voltages.  This app for overclocking and undervolting Sony Ericsson Xperia series Android phones come with a variety of tweaks and optimizations that are meant to enhance user experience and stability.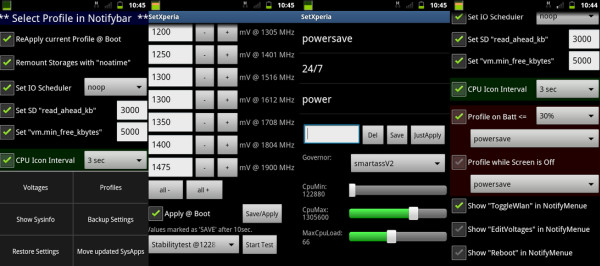 Some key features of this CPU controlling SetXperia, exclusively for Sony Ericsson Xperia Android phones, app are:
Set SD Card read-ahead KB
Set VM Min Free Memory ("vm.min_free_kbytes")
Remount Storage with NoAtime on Boot
Overclock
Undervolting
System Info like CpuSpy
Profiles like SetCpu, NoFrills CPU Control
Voltages like IncrediControl
The app is basically a mixture of all cool features that are available in other overclocking application available in Market. This SetXperia Overclocking / Undervolting App for Sony Ericsson Xperia New, ARC, Play, X10, X8 etc. is only meant for devices with root privileges. Apart from root, you might need a custom kernel as well to overclock or undervolt your device.
You can install SetXepria CPU Voltages app directly from Android Market. Once you are done with installation, launch the app on your phone and use onscreen options to scale / set your CPU. If you press the menu button, you will be able to go in Voltages section to set custom voltage value. The profiles option in this app allow you to pre-set Overclock and Undervolt values. It is best to try this app on rooted Sony Ericsson Xperia Android devices with a supportive custom kernel. Although its not mentioned anywhere, but we are sure that this app can cause irreversible damage if tried on any other Android phone.
SetXperia CPU is an excellent app for Xperia owners as SetCPU and No Frills wasn't compatible with most Xperia phones. Although its fun to Overclock and undervolt Android devices, but as it is direct tinkering with CPU of your device, so you can end up with a damaged phone. In case you are facing any issues or want Live developer support regarding functionality of this app, then consult the official XDA app thread posted here.