Overclock HTC Vivid Up To 1.89Ghz With Custom Kernel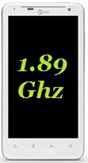 The HTC Vivid gets overclocked to 1.89Ghz! For a dual core Android device, this is huge! The Vivid, currently running Android 2.3.5 Gingerbread, originally comes powered at 1.2Ghz (dual-core of course) and is a power house with its massive 4.5" screen and 1080p@60 frames video recording capability. You will have to admit, that the specs really do scream out aloud and are more then enough to cope with many media intensive tasks. However for some, enough, is not acceptable. XDA-Developers forum member, bananacakes has been working hard on a kernel to allow users to overclock the Vivid up to 1.89Ghz. More on the kernel and how you can get it installed on your device, after the break.
The kernel, for now has seen a handful of releases due to updates following. That said, while the kernel is meant to overlclock upto 1.89Ghz, it has actually been a case of hit and run for most users, but the dev. is hard at work trying to make it bug free. This one is not really meant for the novice users, even though we'll admit the installation is a piece of cake, we'll still advise novice users to hold out till something more concrete rolls out.
You currently have 4 iterations of the kernel available to you, so you will have to choose the one you desire and download it from the forum thread. More so, if one kernel fails to give you the desired result, you can give the other one a shot.
Disclaimer: Please follow this guide at your own risk. AddictiveTips will not be liable if your device gets damaged or bricked during the process.
Requirements:
A rooted HTC Vivid. See our guide on rooting the HTC Vivid.
The kernel you downloaded from the forum thread.
Instructions:
To begin, extract the kernel zip file to find a bunch of files.
Next up, boot your device into fastboot mode and connect it to the PC via USB.
Once the device is connected, simply run the FlashBootImg.bat from the folder you extracted. This will flash the kernel.
Once the kernel is flashed, you can use SetCpu or CPU Master from the Market to check your new frequencies, or if the kernel worked at all. For updates and queries, head over to the forum thread at XDA-Developers.