Overclock Samsung Galaxy S To 1.6 GHz Blows Off Competition
If you were impressed by recent overcloking done with Motorola Droid as well as HTC Desire Z and are a Samsung Galaxy S owner, then there is some great news for you. Folks over at XDA have managed to mod a kernel that overclocks Samsung Galaxy S to a tremendous 1.6 GHz! According to the hacker, who managed to overclock his Samsung Galaxy S, the initial target of this procedure was set at 2.0 GHz of which 1.6 GHz has been found relatively stable.
Right now the kernel is not in it's best shape and there have been some stability issues related with it, but the developers are hard at work to solve these issues and come out with a stable version of the OC kernel for Samsung Galaxy S. The current FPS ratio acquired through this overclocking is 78 FPS against a set target of 85 FPS. The current version of this OC Kernel for Samsung Galaxy S is based on a stable JFD build and in order to use this Kernel with JI6 Build's, you'll need to flash Eugene's JFD/ JI6 support package.
Here are some screen-shots of the overclock for Samsung Galaxy S:
Here is a screen shot of bench marking the overclocked Samsung Galaxy S with other Android Devices: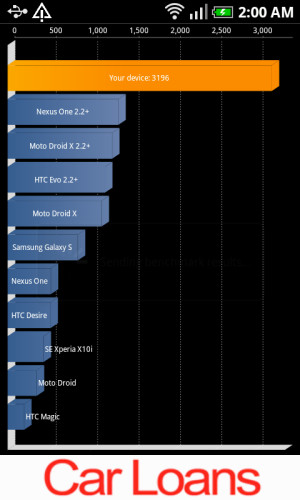 Please note that this overclocking was done on Samsung Galaxy S Vibrant and we are not sure if this will work on other variants. In case you are looking to overclock your Samsung Galaxy S with this OC kernel, please head on to the official XDA Forum thread for support and download. We will cover this overclocking in a standalone guide once there is a stable version of kernel available that also preserves battery timing.