Paint Chat: Alternative Gtalk Client That Lets You Share A Drawing Canvas Over WiFi
Previously reviewed apps weScribble and Draw-n-Chat have already shown us some fun ways of sharing scribbles, doodles and handwritten text messages with friends in real-time over a common & shared canvas. As with all other Android app categories, new and better alternatives never cease emerging on to the scene. Same is the case with  Paint Chat, which is yet another handy addition to the list of apps from said genre. In order to use the app, you must sign in with your Gtalk account. Once logged in, the app displays a list of your contacts, with the green icon representing the online ones. In order to share doodles/handwritten messages, both contacts must be connected to the same Wi-Fi network, and should have the Paint Chat application running on their devices. Even if not connected to the same network, you can still use the app as an alternative Gtalk client to chat with contacts via plain text messages sent over the web. To help you with making your drawings more attractive, the app offers you with plenty of customization controls. For instance, it lets you set a custom background, pen color, and pen size. Any changes made at one end are replicated almost instantly at the other, and should the canvas start getting cluttered, you can replace it with a fresh one with a single tap.
In order to use the app, you must authorize it to access your Google account. For this, launch the app, tap the settings icon at the top-left of the screen, feed in your Gtalk username and password, hit the back button, and finally, tap the chat button at the top-right of the app's homescreen to log in with the provided ID.
Selecting an online user from the contact list displays a context menu that provides you with the option to initiate a normal text chat (if connected via different networks) or the Handwriting : Real-Time chat on a canvas (when sharing the same Wi-Fi network). The app alerts you of each chat invitation via status bar notifications.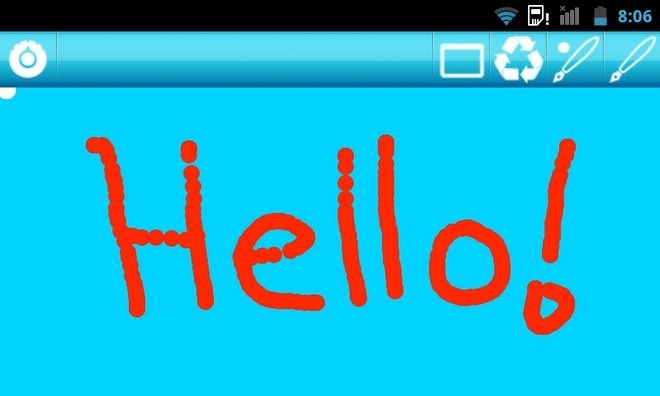 If you choose the Handwriting option, both you and your friend are taken to the app's drawing board interface from where you may select a custom background, pen color as well as pen size for your drawings.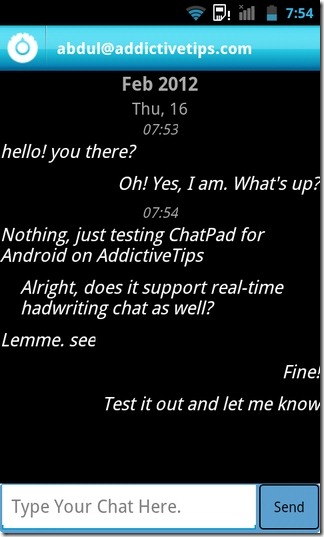 The app's IM interface, like the rest of the app, sports a rather simple look.
Download Paint Chat for Android (aka Draw With Friends)