Paper Camera For Android Makes Your Photos Look Sketched [Now Free On GetJar]
You would've come across various camera apps for your Android that do all sorts of things. Whether it be capturing snaps via voice commands with Say Cheese Camera or using LifeDropper app to identify various colors of life or simply capturing plain snapshots and applying filters. Paper Camera, though hardly unique, is a powerful & extremely well-crafted camera replacement app that makes your photos look as if they were sketched. And unlike other similar apps, it supports real-time preview of all of its 11 filters. Until now, Paper Camera was available for download on the Android Market and on the iTunes App Store for a price tag of $1.99 and $0.99 respectively. But now, it's available for free on the GetJar Android store.
Paper Camera isn't a run-of-the-mill photo capturing apps that lets you add a handful of post-processing effects to your snaps. It displays its effects in real-time, saves snapped photos instantly to local storage and allows you to share your favorite shots with your online buddies from within the app.
To start enjoying the fun, just launch the app, set the appropriate view in camera's preview pane, switch back and forth between effects using the two arrows in the top-right corner of the screen, adjust Contrast, Brightness and/or Lines and when you're satisfies with the result, tap the camera button in the bottom-right corner to save the photo. As of now, supported camera effects consist of:
Comic Boom
Sketch Up
Acquarello
Old Printer
Neon Cola
Con Tours
Bleaching
Gotham Noir
Half Ton
Granny's Paper
and Pastel Perfect
Paper Camera has been designed to work in landscape orientation only so that you get maximum space to preview and capture the best shots while having access to real-time image processing controls (contrast, brightness and lines) on your screen at all times. All snapped photos are saved in the default /DCIM/Camera directory.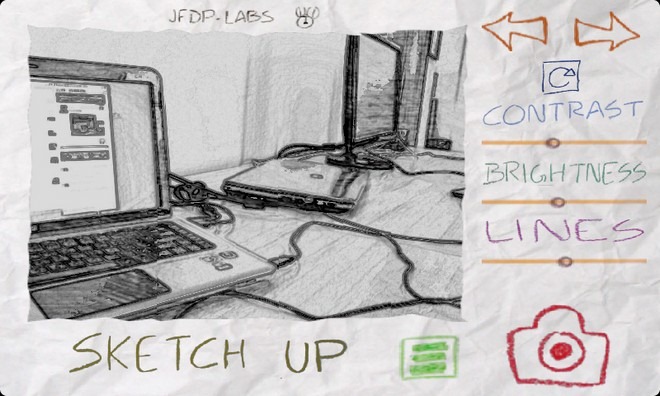 In an attempt to bring a review of this awesome app to our readers, I've become a fan of Paper Camera myself and who won't be, for it's such a refreshing sight. Nope, I'm not getting biased but this one's a must-try for your Android device. You can download Paper Camera from GetJar link provided below. Alternatively, you can download the app directly to your Android device via GetJar's mobile site. Here's how:
Visit m.getjar.com from your phone's browser
Navigate to the bottom of the page and select Quick Download
Enter the product code: '167590' in the provided box
Your download should now begin
Download Paper Camera for Android (GetJar Link)