PC Monitor For Android Gives Remote Computer Access Over WiFi / 3G
PC Monitor is a cross-platform (Android, iOS & WP7) PC monitoring and managing app for mobile devices that allow users to gain ample control over most of the activities and functions of their computers and servers with utmost ease. Monitoring and controlling mechanism takes place over WiFi/internet connection, with a simple desktop server application working in collaboration with a client that runs on your device. All information, data and commands are exchanged under a fully secure SSL encryption mechanism. The iOS (iPhone & iPad) client of PC Monitor has been around in the iTunes App store for quite a while and now the app is available in the Android Market. Given the comprehensive PC monitoring and control features that PC Monitor supports, it has to be lauded as one of the best apps in its genre to date.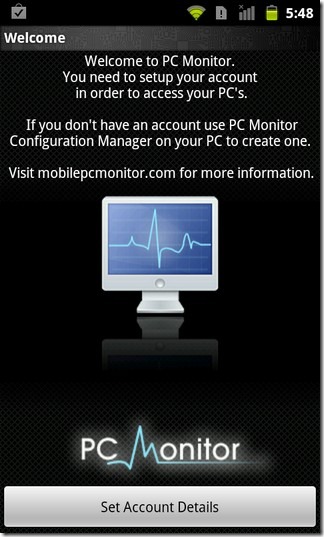 Ranging from diverse PC monitoring features to sending control commands to multiple PCs, PC Control allows users to keep a close check and stay notified on all the activities and operations running on their computers from anywhere. All you need is a desktop server running on your computers/servers, a mobile client running on your device and a PC Monitor account to log into said service. While the app can be used to monitor and control various PC-related operations, the desktop client can be configured as per user requirements to allow a specific degree of control and access to a particular PC.
Computers and servers can be viewed within the app in the form of individual systems or as a part of a predefined group of computer systems. The app comes with the support for dedicated servers to allow full control of your web servers from your device. Dedicated tabs on the desktop client such as General, Service, Network, Scheduled Tasks, Server Modules, File Browser, Notifications and Devices allow mass customization of the server and help users define authorized controls for the mobile client.
The monitoring services of PC Control allow users to get a bird's-eye view on various hardware/software resources and activities running on their PC. For instance, the app has the capacity to display most ofwhatever we see in Windows Task Manager such as CPU usage, memory usage, running processes, scheduled tasks, event logs and list of logged in users etc.
Apart from this, external IP can be used to trace the exact location of the computer/server on the map using GeoIP. Various hardware-related details such as CPU, HDD temperature and system fans speed can also be monitored with PC Monitor. The app displays uptime information and status of all the PCs and servers that have been added to the client.
Dissecting the controlling aspect of PC Monitor, we found that the app can be configured to start, pause, resume or even kill a running service, trigger a scheduled task, send message to logged in users, manage Microsoft Exchange servers (2007 & 2010), assigning authorization controls to specific devices, check and install Windows updates, run Command Prompt and more.
The best part of the entire deal is that PC Monitor can be used to restart, shutdown, hibernate, suspend and wake up (wake on WAN) computers when required. This feature is useful especially for users that often need to leave their computers running in their offices even after duty hours to complete a specific task.
Then there is an option to display notifications for literally any aspect of your computer usage as you like. Be it the notification of one of your hard drives running low on disk space or be it about a server crash, PC Monitor will inform you about all on your device. In the same way, the desktop server can be configured to allow devices to get notifications on various PC operations such as any modification in the status of the operating system and network activities, when a user logs in or logs out or when new Windows updates area available. You can rest assured of protecting your computers and servers from prying eyes by enabling a PIN that would be required to start, stop or access a particular function on your PC. For free, PC Monitor allows monitoring just 3 computers, however, interested users can get a paid subscription as per the amount of computers required.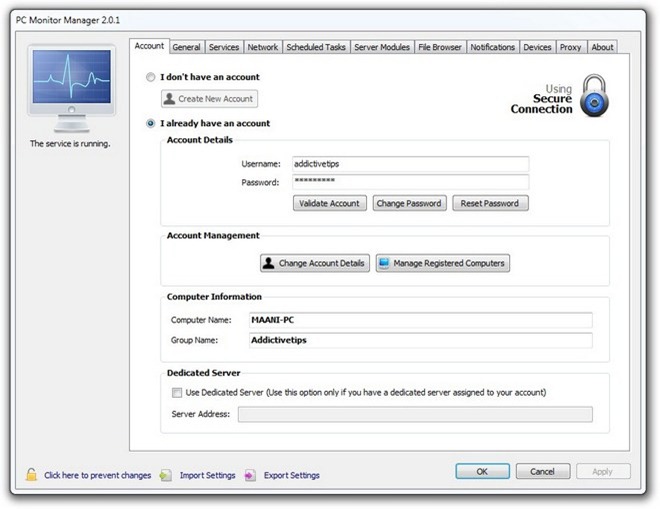 To serve justice to the comprehensiveness and usability of PC Monitor, it is only fair to say that the app must be tried at least once. The mechanism was tested successfully with the desktop server application running on Windows 7 and the PC Monitor client running on our HTC Desire Z. The only blemish in an otherwise useful app is that there is no way to stop services on the desktop client in case you wish to do so.
Download PC Monitor for Android