Personalize & Post Real Holiday Cards From Your Android Or iOS Device
With the Christmas & holiday season approaching, it's perhaps an ideal time to express your sentiments to your loved ones by sending them nice holiday and Christmas cards. How? Well, thanks to the efforts of Sincerely Inc. – the developer of Postagram for Android & iPhone – we now have a brand new app called Holiday Cards that is specifically aimed at letting users personalize and send printed Christmas and holiday postcards to the postal addresses of their friends and family. With Holiday Cards, you get to choose from over 30 elegant card designs and personalize them with your photos and/or a custom message. Each card you order gets printed on a 5×7 inch postcard, can be delivered to literally any address in the world in no more than 3 weeks (depending upon the location) and starts from as low as $1.69 (postage charges inclusive), with a money-back guarantee/free shipment for misplaced cards.
The app is available for Android and iOS. There is a separate app for the iPad as well. Just for reminders, Holiday Cards and Postagram aren't the only two smartphone apps that let you design and order real postcards on the go. We recently reviewed Postcard On The Run for Android and iOS, which is another fine example of apps from said genre.
Using Sincerely Inc is quite simple. In just a few steps, you have a personalized postcard ready to go. Here's what you need to do:
Launch the app, and after it displays its own brief how-to guide, select from a preferred card layout (photo-based or illustrated).
Provide your family name (or any name of your liking). This will be used on the card (one-time process only).
Choose a preferred card color.
Add some custom text on the front and back of your card.
Provide your email address for registration (for first-time users only).
Add as many recipients/contacts as you like by providing a postal address for each.
On the Order screen, take one final look at your card from the front and the back side, feed in your payment information, specify the date of posting and eventually, tap Order at the top-right or the Looks great! I'll buy! button at the bottom of the screen.
Your card is now on its way to the selected recipients' addresses.
So if you're up for reviving the years-old tradition of sending postcards on Christmas, hit the download links below to install the app to your Android or iOS device. The app itself is absolutely free.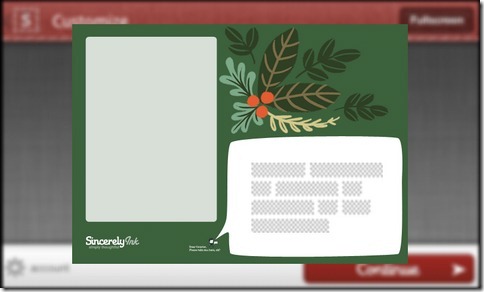 Download Holiday Cards for Android
Download Holiday Cards for iPhone, iPad & iPod touch