Photo Calendar For Android Displays Photos By Date Within A Calendar
If you're a compulsive photographer, and love to put your Android device's camera to good use to take plenty of pictures, you must have often felt the need to view your entire photo database in a chronological order. Photo Calendar is a comprehensive photo capturing and browsing app for Android that takes a rather different route to displaying images from your device's gallery. The app displays all images within its built-in calendar, where each image is displayed under the exact date, and according to the exact time, at which it was captured, thereby helping you to take a trip down memory lane in a simple yet visually appealing manner. Apart from exploring images by albums or month, you can also play a slideshow of your photos, delete and share them on social networks of choice right from within the app.
Although the native image viewers of most Android firmware (both custom and stock), and most image viewing apps on the Market, provide the option of sorting images chronologically, this is the first time we've come across one that displays them so neatly within a calendar as per their original date and time.
When launched, the app scans your SD card for all the locally stored images, and displays them under the Album tab on its homescreen. Tapping the Month tab sorts these photos according to the month within which they were captured.
Hit the Calendar tab to switch to the aforementioned calendar view. The left/right arrow keys on this screen let you switch between different months. Tap a date's tile to view the images captured or saved on that day. The tile itself displays the thumbnail of the last captured/saved image for the day. Selecting a photo displays it in fullscreen. While in fullscreen, you can swipe left or right across the screen to switch between images, or view them in a slideshow by hitting Menu > Slideshow. Each photo can be shared or deleted from within the same aforementioned menu.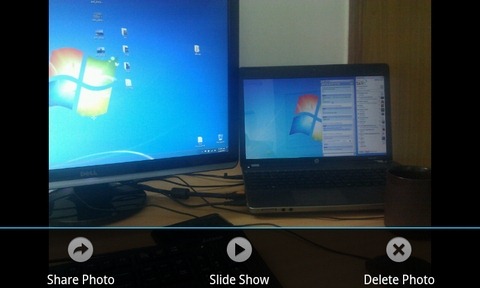 All in all, not only does Photo Calendar bring a fresh way of viewing images to the table, it makes calendars seem much less boring.  If you're tired of browsing photos in the same monotonous way, and want to go through your albums month by month, and date by date, then you should definitely give the app a try. The only thing missing as of now is a homescreen widget, and the option to edit album and photo titles.
Download Smart Album – Photo Calendar for Android