Photobooth For Android Lets You Create & Share Custom Photo Strips
Photobooth is an Android app that lets users create and share customized photo strips using multiple photos (maximum of 3). The app's interface resembles the looks of a real-life Photo booth, with the only difference being that instead of generating your own snaps, you can choose from any image that is stored on your device, or you may simply capture a fresh one.
Photobooth helps combining multiple photos on a a single strip, so that you can share them all at once rather than sharing one-by-one. Unlike other photo-sharing/editing apps, Photobooth does not dish out too many flashy filters, stickers, effects and all. Instead, it backs a very simple purpose; pick 3 favorite photos for your photo strip, edit it using a handful of effects and share it with your buddies.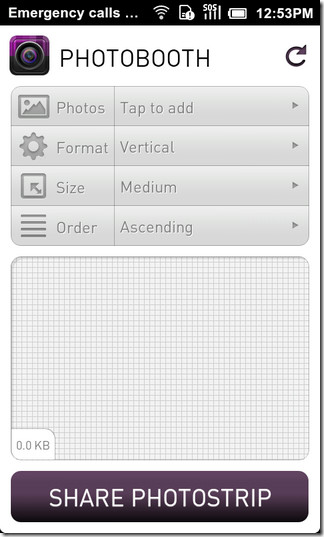 Apart from sporting minimalistic, yet well-designed, interface, Photobotth is extremely simple to use, too. From the app's solitary homescreen interface, you can create, edit and share your photo strips. Here's what you need to do:
Tap on Photos and select the source of your picture (camera or gallery). As mentioned above, the app, as of now, lets you add a maximum of just 3 images on a single strip.
Once done with adding all the images, tap Format, and select the orientation of your photo strip; horizontal or vertical.
Next, tap Size to determine the size of the photo strip by selecting from Small, Medium or Large.
Tapping Order on the homescreen lets you decide whether you want the images to appear on the strip randomly or in an ascending/descending order.
Finally, hit the Share Photostrip button at the bottom, and pick a sharing app of your liking.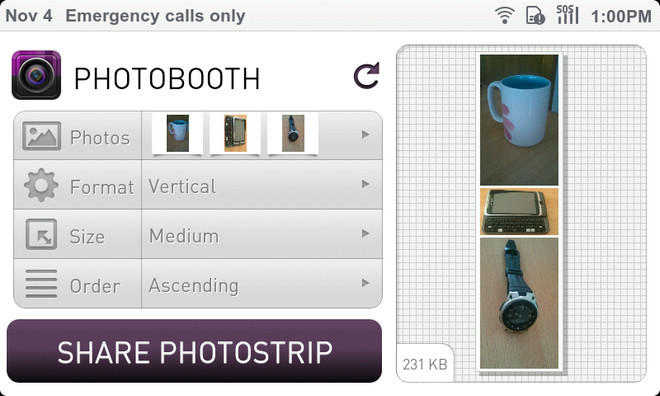 Want to send more or start it all over again? Just tap the refresh icon at the top-right of your screen and you're good to go!
You can preview the photo strip (image) along with its file size via a little window. Thumbnails of all the photos added to the strip are displayed beside the Photos button and can be easily rotated/removed with a simple tap.
Don't forget to check out this nice little introductory video of Photobooth before heading over to the download links.
With a file size of just 160KB and a price tag of $0, Photobooth is certainly one of those apps available on the Android Market that are not only light on your device, but your wallet as well.
Download Photobooth for Android