Pictour For Android: Share Geotagged Photo Galleries Of Your Trips
Pictour is a new, free and innovative Android app that lets you explore, create and share travel guides on the go. Although there are numerous photo-taking apps out there which let you easily capture all the picturesque sights that you come across while on tour, few are as helpful and easy to use as Pictour. The app keeps all photos captured during a tour organized and displays precise locations on a map for where each picture was taken. Apart from exploring some of the app's featured tours/travel guides, you can create your own with just a few taps. Each tour is stored on the Pictour server and can be shared with your friends as a PDF document. That's not all. If you stumble upon a particular image from within a tour that catches your eye, you can share it on Facebook/Twitter.
Pictour can prove to be a handy companion for avid travelers and adventurists as it has the capacity to store all your captured photos under specified tours. Since each captured image is automatically uploaded to the server, rest assured that none of your precious travel photos will go missing. Whether you're strolling through the countryside or visiting a national landmark, just keep grabbing snaps and Pictour will organize and upload them for you.
Creating a tour is quite simple. All you need to do is launch Pictour and login with your Pictour ID. From the the app's homescreen, tap the New Tour tab. If you don't have a Pictour account, you can easily sign up for one from within the app. The registration is free.
Once logged in, you're taken to the My Tours section of the app. Just hit New Tour, specify a title for your trip and begin adding photos. Every new photo that you capture is uploaded to the server along with a snapshot of its exact location on the map. A notification for each successful upload is sent via email.
As mentioned earlier, the app lets you view all featured tours from its online database. While on the Featured screen, just tap on a tour of your liking to to download it to your device or simply explore all the photos in it. Each downloaded tour is stored as a PDF file in the the pictours folder on the SD card. All uploaded/featured tours can be viewed on the Pictour website as well.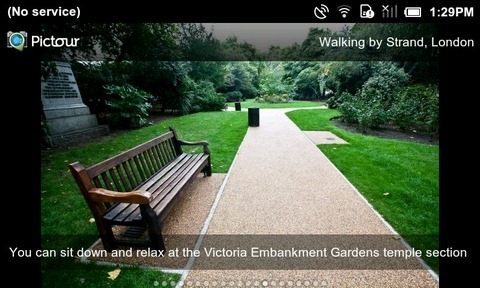 While exploring a tour, you can can view thumbnails of all the contained images arranged along the bottom of the screen, above which is displayed a map with the precise location of each photo indicated via red placemarkers. The location of the thumbnail in the middle is indicated by a blue placemarker. You can swipe across the thumbnails to view each photos location or on one to view the photo in full screen. Swiping left/right across this screen lets you switch between photos. To share a photo on Facebook/Twitter, just select Menu > Share.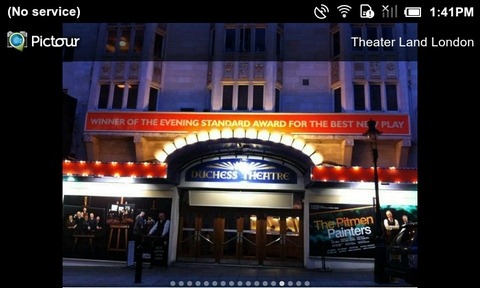 Even with its Android variant in beta and its iOS variant still in the pipeline (as of this writing), Pictour seems like quite a good implementation of a great idea.