Pin A Sticky Note To iPhone Spotlight Search With ToDoNotes
There are quite a few platforms (and apps) that allow you to pin virtual sticky notes to your desktop / home screen. Some people might argue that you can achieve the same functionality by saving any text file and keeping it opened indefinitely, but sticky notes streamline the whole procedure, and provide a rather attractive interface. Now, iOS users can get this handy little feature on their iPhone, iPad or iPod Touch and that too for free! One catch though – you need to have a jailbroken device, as the feature can be used through ToDoNotes, which happens to be a Cydia tweak.
This free tweak is available in the Big Boss repository over at the Cydia store. Once you have ToDoNotes installed on your iPhone or iPad, you don't have to configure any settings to proceed further. The tweak works its magic all on its own.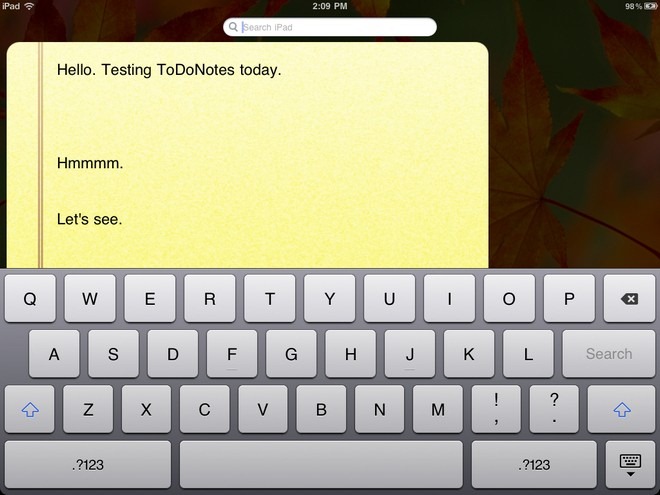 Go to the stock Notes app on your device and type the note you want to pin up. Once finished, tap the E-mail button at the bottom of the screen. The tweak basically changes this button. Instead of just mailing options, now you will see an additional option labeled "Push to ToDoNotes". Tapping this option will make the note you just typed your pin-up note.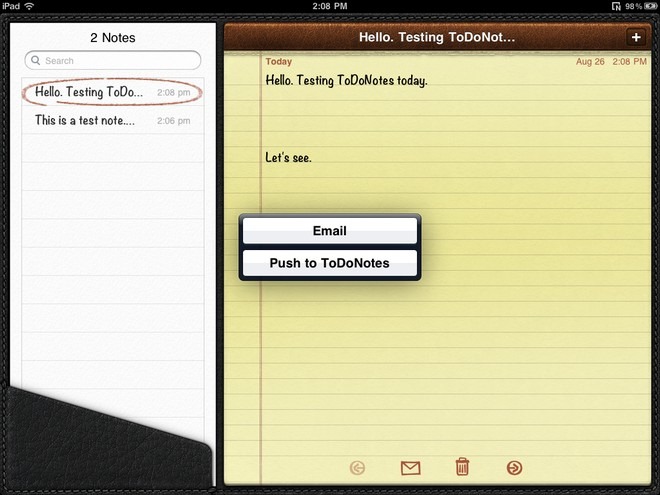 Now, how can you view your note? Just go to Spotlight search and you'll see your note below the search bar. The note does not change the functionality of Spotlight search at all. You can keep just one note at a time on your search screen, however, it is possible to edit it from time to time by simply editing the original note.
You can use ToDoNotes as a reminder list, or any list for that matter, or you can use it just as a nice textual backdrop to your search screen. The tweak does not look too good on the iPad's larger screen, but on an iPhone, things work out perfectly. At first glance you might be tempted to think that the ToDoNotes tweak breaks the Spotlight search, but to the contrary, everything remains in working order, and you can freely look for anything by typing your queries in the text box at the top of the screen. The note will go away temporarily to make way for the search results, and once you dismiss the results, it will show up once again. We would love to see the developer of ToDoNotes adding support for multiple notes, as there is certainly room for more than one in the Spotlight area, although you can paste as much content as you want in the one note that is allowed to be pinned.