PopBot Automatically Identifies & Records Songs From Online Radio Stations [Android]
We all love our personal music collection, but there comes a time when you feel like supplementing this collection with some fresh tracks. That is where all the those music discovery and radio streaming apps and web services come into play. While there are several comprehensive radio streaming apps for Android, there are few that also support recording an entire stream of music being played on a station. That said, there are a couple of issues with employing the latter as a means to listen to the latest music. First of all, such a feature mostly comes tied with a hefty price tag. Secondly, while you might prefer a stream of non-stop music, you'd have to tolerate prolonged DJ banter and annoying advertisements. Not only would this waste your time (as you manually skip through these parts), the resulting files would occupy more space on your device's storage than you would want. Fresh to the Google Play Store, PopBot is a fine-looking, comprehensive and free radio streaming app that claims to be able to separately record each individual song in a radio station's stream.
PopBot features a unique and intelligently built song identification mechanism that analyzes the content that is currently being streamed on a radio station. This helps it recognize and extract just the songs in the stream, thereby leaving all the advertisements and DJ bits out. Each song is captured as an individual MP3 file along with its title as displayed on the station. Recorded tracks are instantly saved to your device's local storage, and can be played via the app's native music player. The cross-fading effect at the beginning and end of a recorded track ensures that parts of ads, if included in the recording, are removed completely.
PopBot boasts hundreds of high quality radio stations coming from all across the seven continents, and comprising a wide variety of music genres. As soon as you pick a station from a country or genre of your liking, the app begins analyzing the content that is currently being played, and automatically capturing just the music tracks. The longer you listen to a station, the more tracks you will have in your music library at the end of the day.
That's not all; the app even features a silent capturing mode that enables it to keep recoding music even with the radio volume muted. It supports music playback, radio streaming and recording in the background (the app even continues recording from live radio while you're listening to recorded tracks), and can be set to record songs only while in charging mode, and/or while running on a 3G internet connection (only records on WiFi by default).
On the app's main interface, there is a toggle in the top-right corner that helps you quickly switch between the radio and music player. Below that are the buttons that can be used to like a station, enable the aforementioned muted recording mode, get detailed station information (genre, country, number of saved songs, bitrate), and share the station with your buddies.
The bottom part of this screen comprises three tabs that (from left to right) let you view your favorited stations, and choose from the app's extensive collection of radio stations. Streaming, on the whole, is buttery smooth; most of the stations are streamed at a bit rate of 128 kbps or more.
Now, coming to the app's effectiveness with recording. According to what we observed during our test-run of the app, as long as your selected radio station has non-stop music playback with just advertisements in between, the app works like a charm, recording and saving every song included in the stream as a separate track and displaying a notification for each. However, as soon as you switch to a station with a DJ talking in between songs, the app seems to be unable to do the same. It misses some songs being played in between the DJ talking, and sometimes doesn't record any tracks at all. For example, while we were testing the app on a similar radio station, it missed the first three songs, managing to record the fourth and fifth, but with the DJ speaking for the first and last quarter of the length respectively. Now, this could be improved upon in future releases; the app is currently in beta, after all.
Although a lot of users might call this an insignificant blemish, and be content with the way the app is right now, we would love to see this issue resolved in the final build. PopBot isn't the sort of app that pops into the Google Play Store everyday, which is what wants us to see it get into the good books of all music-loving Android users.
Tapping Menu > Settings lets you disable the app's Rough Cut Songs feature that apparently sets the app to record songs even if they're length has been reduced by junk content in the beginning and end (all such recordings have the words Rough Cut added within their titles). If the app happens to record a better version of the same song later, it automatically replaces the Rough Cut version.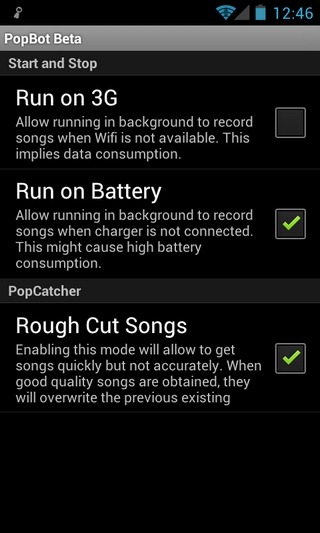 Tracks are recorded at exactly the same bit rate as supported by the host station. You can find all your recorded tracks in the Music > PopCatcher Music folder on your device's local storage/SD card.
Using the app is as simple as it sounds, and going by its list of supported radio stations, radio recording capability, and simple music playback features, one has to admit that, even in beta phase, PopBot is easily among the best radio streaming and recording apps out there.