Potential Siri Alternatives For Android [Roundup]
As iPhone 4S users begin utilizing the services of Siri – the latest voice recognition sensation in the world of smartphones – Android developers all across the globe are busy ensuring that the users of said OS are not left out in the cold. The results of these efforts? A brand new voice recognition app (or Siri clone) that hits the Android Market almost twice a week. With such an enormous influx of such apps, one finds it hard to determine which one could possibly be the best option. Although apps like Vlingo and Sonalight Text by Voice do accept voice commands from users to perform a few predefined actions, they cannot be deemed as Siri-like assistants, as they are incapable of indulging in natural conversation or Q&A with the users. We scoured the Android Market and managed to find four potential  Siri alternatives for Android, each with its own unique set of features.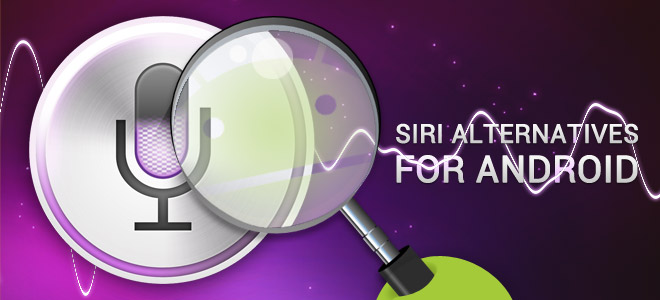 Remember that for most of the following apps to work, you must have Google's Voice Search (TTS library) installed on your device.
Speaktoit
Being one of the first and best-rated apps of its kind on the Play Store, Speaktoit really doesn't need a long introduction. The app is praised all over the technology blogosphere for its excellent design and feature set, and rightly so.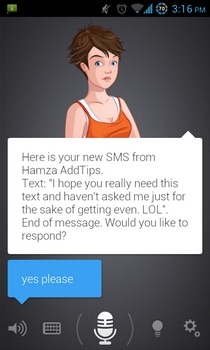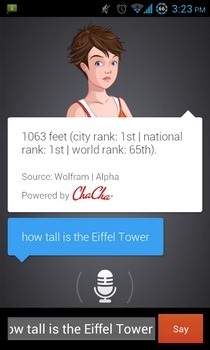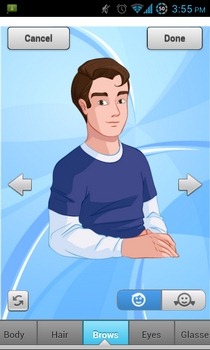 The app evolves with time, remembers your preferences, responds to natural conversation and voice commands that let you launch apps, control system settings, ask for general information and call on a multitude of web apps and services the likes of Yelp, ChaCha, Wikipedia, TripAdvisor, Google Maps and Bing Translator. Additional features include a comprehensive built-in editor for the virtual assistant's avatar and support for remote, hands-free input through a Bluetooth headset.
Iris
Ever since Iris hit the Market, it has been able to attract quite a few users and is lauded by many as Android's best possible answer to Siri. Iris sports a minimalistic interface with just a large sapphire marble icon on its homescreen that the users can press to interact with Iris vocally. Feel free to ask her anything ranging from a complicated question to friendly chit-chat or detailed weather forecast for a region of your choice. Additionally, you can command her to dial your friend's number or send them a quick text message; all via voice commands.
For all queries based on common topics, Iris is likely to provide you with information from Wikipedia and supports any such answers with relevant images. Apart from that, Iris, as of now, is pretty thin on features (after all, all it took was eight hours to get the first build of Iris ready), though we expect many more goodies to be added to the app in future versions.
Skyvi
Another fresh entrant to the Android Market, Skyvi not only answers to any questions that you throw at her but also accepts voice commands from users to read aloud their Facebook and Twitter feeds, update their statuses on both social networks and like/comment on a particular post. Using Skyvi, you may also listen to a specific friend's Facebook Wall or news page (by saying his/her name). Apart from supporting two of the most widely followed social network services, Skyvi also answers all your queries as per her capacity and the difficulty of your questions. All voice commands can be fed to the app by pressing the microphone icon at the bottom of the screen. In addition, you may manually like/comment a friend's post, write on their wall or re-tweet Twitter content.
The app can be controlled via headset too. Just plug a headset into your device and long-click the headset button to feed in a voice command. While single clicking plays/pauses the answer, double-clicking lets you fast-forward it. Clicking thrice rewinds the message. The media controls (previous, play, next) at the top of the app's main interface let you play/pause and quickly switch between content that is currently being read. Tap on the icon on the bottom-left of your screen to log in with your Facebook and/or Twitter accounts and to toggle the app's status bar notifications on or off.
On the downside, Skyvi can be quite annoying at times courtesy of excessive force-close instances. Also, the app does not support taking voice commands to call or text contacts and the UI definitely needs to be given a second thought if it is to pose any threat to other alternatives arriving on the Market at a rate of knots.
Risi
Another Siri clone, another valiant attempt to provide Android users with a capable voice assistant. Risi is good with general knowledge and greets you each time you launch the app to avail her somewhat imperfect services. Oddly enough, Risi seems to have problems remembering her own name (screenshot below, left) but definitely seems to know a thing or two about the US President. Apart from showing you Mr. Obama's smiling snap, Risi lets you access his Wikipedia page as well as the official White House website; very intelligent. However, Risi draws a blank when asked to do some very simple tasks such as calling/texting a contact.
The app is pretty good at answering queries based on general knowledge, showing you maps and weather forecasts for locations of your choice and even knows your 'current outgoing IP'. Void of any complicated configurations and with everything on a solitary homescreen, Risi is the least cluttered among the other apps in this list. Tap on the blue mic on the app's homescreen to interact with Risi. Whether you want or not, Risi repeats answers of all your questions aloud and tries to supplement most of the answers with relevant images.
Risi, as of now, just communicates in English and needs tremendous improvement, both in terms of UI and capabilities.
Like the ever-evolving world of technology, the underlying components keep changing as well until a durable and feasible solution is found. Same holds true for Siri as well as all these underdeveloped Android variants of the iOS-powered marvel, which promise so much more than just being used for friendly chitchats. Moreover, these probably aren't the only Siri-inspired apps on the Market and we expect the number of such apps to rise by leaps and bounds in the coming weeks.
So which one of the lot is your favorite? Feel free to leave any suggestions regarding features the developers could add to these apps to make them better.