Powerful Task Management App Conqu Now Available For Android
Conqu is a free cross-platform task management app for Android, iOS & Blackberry that comes with a strong reputation of providing its users with a comprehensive set of features so that they can keep a close tab on their past and pending tasks through various time-based filters. Whether it's a business matter that you want to get resolved instantly, an on-going project comprising of multiple tasks or a mission that you wish to accomplish in the long run, Conqu makes sure that you get it all listed under their relevant categories along with priorities, energy levels, due dates, tags and notes. The app supports archives for your various Conqu tasks and lets you delegate tasks to the relevant people (using their email addresses) once you log in with ConquSync. The app also has notifications for all the completed (by your contacts) as well as upcoming tasks.
Separate variants of the Conqu app were released on the iTunes App Store for iPhone and iPad just a little while ago and now the Android variant is available on the Android Market.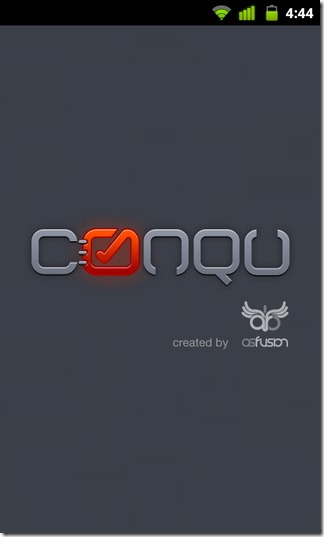 Amid all the hustle bustle of daily life in which almost everyone (including students, doctors, and business men/women) is looking to get their tasks managed (or at least, listed) in an orderly manner, it is only befitting that one can find tailor-made task management apps across app stores of all popular platforms. Any such app, no matter however different in its looks, comes with more or less the same features. In this context, Conqu too, is no exception.
On the app's homescreen, you can find all the different categories ranging from all your pending tasks for the day, for the next coming days, for the distant future as well as for unscheduled tasks. The number/digit besides each category represents the pending tasks under that category.
Adding tasks with Conqu is simple. For this, you need to tap on a category (or on the plus sign at the top). For each new task that you create, you can add a relevant title, project name, context, tags, time for task, energy level, flag color (for easy identification), notes, due date and the date for which it has to be scheduled. All the aforementioned categories require only a few taps to get attached to the task.
Apart from viewing all tasks listed under a specific category, you can mark tasks as 'Done' by ticking the check box besides their title.
To move tasks from one category to other category (even to trash), just tap the pencil icon at the top-right, select the task, tap Move and pick a category. To restore a deleted task, select Trash (from the homescreen), select the task and tap the pencil icon > Put Back.
The ConquSync login option (mentioned above) can be found by tapping the settings button on the app's homescreen. You can signup for a new ConquSync account from the Conqu website. If you already have an account, you can log in from within the app to avail the mail-forwarding feature (for your colleagues/friends).
To see how Conqu works, check out the official demo video of the app below.
Note: Conqu requires Adobe AIR to run. Adobe AIR can be downloaded from the Android Market for free.