Recludo: Launch Music App Every Time You Unlock Your iPhone [Cydia]
You might own an iPhone, iPad or iPod touch for a variety of reasons, not the least of which could be listening to music. The stock Music app and music controls in iOS make it pretty easy for users to enjoy music without having to go through a lot of complications. Recludo, however, is a Cydia tweak that makes listening to your favorite songs an even more enjoyable and convenient task. The tweak does not launch the Music app blindly every time you unlock your device, but judges by itself if you really want to listen to music or not.
 Recludo will basically make your device act like a dedicated music station. Each time you unlock your phone's screen, you will be taken straight to the music app. This might sound a bit inconvenient, as you are not likely to use your iDevice solely for music. That is why Recludo acts intelligently, and it will only launch the music app if your lock screen has music controls active on it.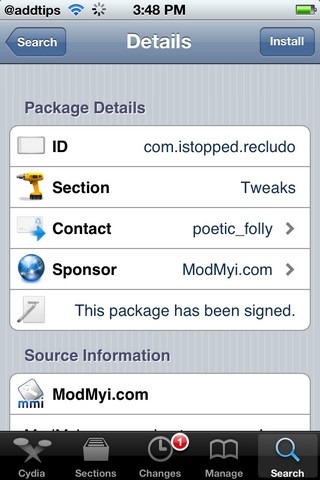 The tweak does not add any app icon to the Springboard, and has no customizable settings in the Extensions tab. Recludo might prove to be a really useful tweak when you are busy elsewhere, and cannot afford to focus your entire attention on your device, like when you are driving while listening to music. Just make sure that the music controls are activated (by double tapping the home button on lock screen), and as soon as you unlock, you will be in the Music app. Admittedly, it does take the app a few moments to load, during which you will be left with just a blank, white screen, but that does not limit the usefulness of the tweak to a great extent.
You can download Recludo from the ModMyi repo in the Cydia store, where it is available for free. In our opinion, the tweak is more useful for iPod touch devices, but if you like listening to a lot of music on your iPhone too, Recludo is something that you have to try. The tweak can be improved a little more if the developer adds the option to choose the action in response to which the Music app will be launched upon unlocking. This will mean that users will be able to launch the Music app if any track is currently playing in the background, or if earphones are plugged in.