RemotifyMyDroid – Get All Your Android Phone Notifications On Your PC
Mobile users often feel the need for remotely monitoring their devices through their computers. Although there are numerous solutions available in this regard, most of them are rather constrained in their functionality. RemotifyMyDroid for Android, in combination with its desktop client, fulfills all your basic monitoring needs. Once the app and the server (your computer) are in sync with each other over a common WiFi network, you can easily get all your mobile phone notifications such as the Incoming Calls, Outgoing Calls, Charge Complete, Charger Removed and Newly Received SMS on your computer.
Through RemotifyMyDroid, all your Android notifications appear on the bottom-right of your computer's screen while at the same time, a detailed history of each and every notification is saved categorically in a separate window to maintain a comprehensive record of all the notifications and events. That is, not only do you stay notified of all the events of your Android device in real-time but a recorded history is always available at your disposal whenever you wish to check it out. The service can be easily started or halted when required.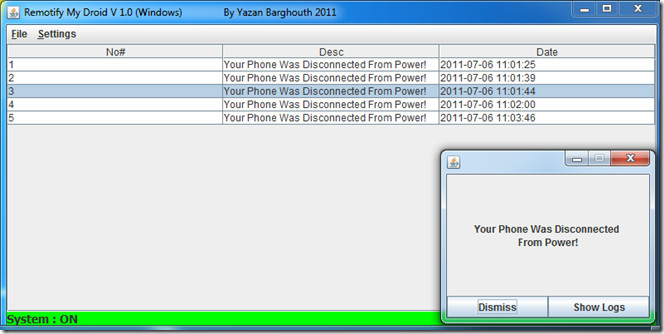 The interface of both the applications (mobile client and PC Server) is quite simple and easy to use. The interface of the pp is comprised of just a couple of screens. The home screen contains the Start/Stop and the Settings buttons while all the important information and guidelines pertaining to the app's usage are also detailed on this screen. The settings page allows you to select from among various events for which you would like to receive notifications.
To successfully establish a connection between both applications, you just have to ensure that you feed the same IP address in both the device and the server program. The synchronization mechanism would work properly only if the respective services have been enabled on the PC Server as well as on the app itself. The port value is set at 80 by default and needs no changing. The PC Server application requires Java Runtime Environment v1.5 or higher to operate while The mobile app requires Android OS 2.1 or greater. Both are absolutely free of cost. The Server App has been tested successfully on Windows 7 while reports from other platforms such as Linux and Mac are quite positive, too.
Note: Remember, for this app to work perfectly in synchronization with your PC, your Android device and the PC should be on the same Wifi network.
Download RemotifyMyDroid for Android
Download Remotify MyDroid PC Server