Remove Pre-Installed Bloatware Apps From Android Devices With Titanium Backup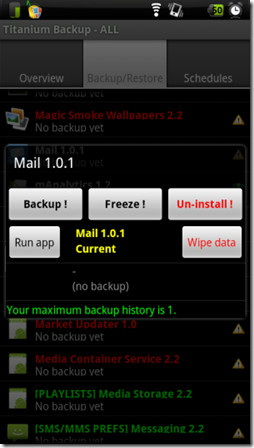 I have always been annoyed with pre-installed bloatware on the devices, and I am sure that I am not the only one who feels this way. Most of these applications are career-specific and offer little utility to the power users who want to customize their devices their way. While Android's built-in uninstallation method works for removing applications installed by users, it does not allow for removal of applications that came bundled with the device. Titanium Backup is a free application you can use to easily get rid of such applications.
We have covered Titanium Backup before in our basic guide to backup an Android phone. This free application packs a lot of powerful features, including the removal of applications that don't appear in the default app uninstall list. Your phone must be rooted before you can use Titanium Backup, and you can learn how to root it from our guide on rooting Android devices.
You can grab the free version of Titanium Backup from the Android Market, get it from AppBrain (link given at the end of this article) or download it directly by scanning the provided QR code.
Once it is installed, run it and tap on the 'Backup/Restore' tab. You will see a list of all the installed app here, including the ones that came pre-installed on the phone. To uninstall an app, simply tap on its name and then tap on the 'Un-install' button on the dialog box that pops up – it really is that easy!
Titanium Backup runs on any version of Android and was tested by us on an HTC Desire running Android 2.2 FroYo.
Download Titanium Backup from AppBrain