Revamped RSS Feed & News Reader FLUD Released For Android & WP7
The ever-so-popular and highly customizable news and RSS feed reader, Flud News, has just been updated to v2.0 with plenty of handy features that include a totally revamped UI and better integration of your news RSS feed and social network sources. Using the brand new Flud News app, you get to explore the most important and trending news stories on the web with a touch of social media integration. Apart from exploring worldwide news, you can also check the activities of other Flud users and your social media friends to learn about their reading habits, tastes and preferences. The updated Flud News app has also become more intelligent, too, as it learns about your and your friends reading preferences, and suggests news accordingly. While exploring a particular news story, you can see who else is currently reading it, and keep an eye on the total number of users who have Fluded (shared) that story. In addition, the app now presents the readers with better feed management, an expanded pool of news sources, and the option to share the best articles with your mates on the go.
Apart from the aforementioned new features, the revamped and improved version of Flud Reader offers you all the convenient news reading options that made it a hit among worldwide users. These include options to add your own preferred news and RRS feed sources, fetching news content from your Facebook/Twitter accounts, natively exploring multimedia contained within posts, conveniently accessing all the news stories from within the selected source by swiping across the screen, option to read the RSS feed or original web version of the news story, Google Reader, Facebook and Twitter integration, option to add articles to the reading list in order to read them in offline mode, and plenty more.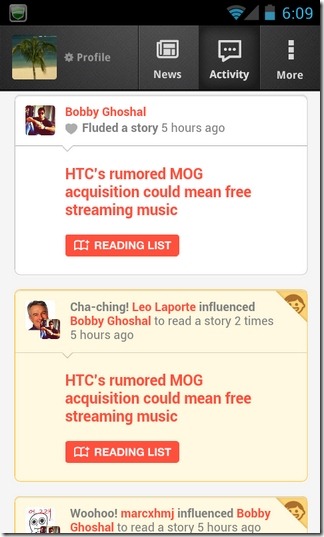 As mentioned earlier, the UI of the app has been totally redesigned, and the new-look Flud News interface provides a much better and enhanced reading experience to the users. The app's main interface is now basically split into two part. Tapping the News button at the top reveals all the top and trending news from the past hour (from your selected sources) whereas tapping the Activity button lists all the news stories that have been running hot among other Flud readers in particular.
Tapping the Profile tab at the top reveals your detailed Flud profile along with all the items that you've Fluded and added to the reading list. From the same screen, you can also see your friends, followers and most read news sources.
Download Flud News For Android
Download Flud For iPhone, iPad & iPod touch
Update: Flud is now available for WP7 (Windows Phone 7.5 or above). Link to its web Marketplace page has been added below.
Download Flud For Windows Phone 7