Root Motorola Photon 4G With A Single Click [Guide] [No Dock Required]
Things are on the roll for Motorola Photon 4G as there is now a pain-less, easy to the core and simple rooting procedure available. Earlier we also posted a command line tutorial but that might not be choice of those unwilling to tinker with ADB commands. This method is based on the latest Photon Torpedo exploit for the Photon 4G and is doable with a single click.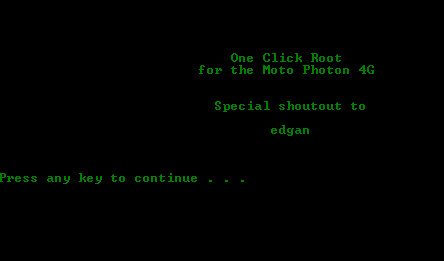 Apparently the developer of this single click root didn't test it himself as he doesn't have a photon on him. And we aren't ruling out the fact that you can potentially commit irreversible damage to your device using this rooting method.
So in case you want to give this single click rooting method for Photon 4G a shot, while keeping all the risks in mind and understanding your warranty will be void, then here's how you do it:
Disclaimer: Please make sure that you have ample rooting, hacking and flashing experience before you try this hack. AddictiveTips won't be responsible if you end up damaging your device
The first step is to download Photon Single Click root package from here, extract the files and save them on your desktop. It is necessary that you extract all the files packed in zip package to one folder.
Once done, connect your phone to the computer and enable USB debugging. You can enable USB Debugging by going to Settings > Applications > Development and checkmark USB Debugging option.
Now connect your phone to the computer but do not mount SD Card or SD Ext.
Open the folder where you saved the rooting files and double click on PrevailToExistance.Bat file.
Now follow onscreen instructions closely to root your phone.
And there you go! You now have root on your device! In case you are stuck or need imminent developer support, then please head to the link in step 2 for more information and Live developer support. The credit for this hack goes to Edgan and shabbypenguin at XDA Forums.